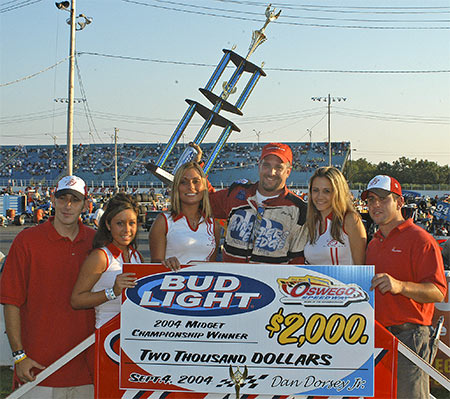 Payne Outraces DiMario in Lapped Traffic to Capture Oswego Classic Weekend NEMA Midget Victory
Submitted by Oswego Speedway... Phil DiMario charged from mid-pack to take the lead of the Midget feature on Saturday, passing Joey Payne along the way. However, Joey Payne's ability to maneuver through lapped traffic got him back around DiMario to take the lead, and was the key to his Classic Weekend Midget victory.
After the NEMA Midgets ran their four-abreast pace lap to entertain the fans, Lee Bundy and Matt O'Brien took the field to the green flag. Pete Pernesiglio made a thrilling move going into one to take the lead from the second row. The lead once again was exchanged on lap one down the back straightaway as Randy Cabral took the lead. After much shuffling, the top five at lap two was Cabral, Pernesiglio, Mark Bonamo, Sean Dolan, and Joey Payne.
Two cars stalled at the same time on opposite sides of the Steel Palace on lap 4, as Adam Cantor came to a rest on the back stretch while Andy Shlatz stopped on the front.
While Phil DiMario and Ben Seitz were charging to get to the front of the field, a scary accident out of turn four halted the event on lap 8. Shane Hammond took a wild ride, as well as Drew Fornoro and Ryan Dolan. The safety crew was tending to all drivers within a matter of seconds after each car came to a rest. All drivers were OK.
On the restart, Phil DiMario invaded the top five and quickly found himself in the runner-up position. DiMario didn't stop there, as he passed Randy Cabral for the lead while Joey Payne followed to gain second place. At halfway, the running order was DiMario, Payne, Seitz, Cabral, and Pernesiglio.
While Pernesiglio attempted to hold off Mark Bonomo and Kyle Carpenter to stay in the top five, Joey Payne heavily challenged DiMario for the point. As the two gained a big lead from third place, and entered lapped traffic, Payne and DiMario split a lapped car with Payne having the advantage. Payne took the lead and didn't have to look back. DiMario came to the line second, with Seitz, Cabral, and Bonomo finishing third through fifth respectively.
Oswego Speedway - 9/4
1 - 45 - Joey Payne
2 - 58 - Phil DiMario
3 - 17 - Ben Seitz
4 - 36 - Randy Cabral
5 - 29 - Mark Buonomo
6 - 12- Kyle Carpenter
7 - 50 - Pete Pernisiglio
8 - 18 - Rich Gerbe
9 - 25 - Sean Dolan
10 - 16 -Matt O'Brien
11 - 15 - Ryan Dolan
12 - 35 - Ed Breault
13 - 11 - Lee Bundy
14 - 98 - Mike Roselli
15 - 77 - Mike Luggelle
16 - 57 - Bob Bradbury
17 - 22 - Andy Shlatz
18 - 16c - Drew Fornoro
19 - 51 - Monnie Wonder
20 - 37 - Shane Hammond
21 - 7ny - Adam Cantor
22 - 2 - Nokie Fornoro
DNS - 98s - Erica Santos
DNS - 33 - Tommy Spada