HEAT 1
7ny - Cantor
2 - Fornoro
44 - Breault
50 - Pernesiglio
81 - Heath
16 - O'Brien
18 - Gerbe
48 - Bertrand
33 - Spada
37 - Hammond
22 - Cleveland
13 - DeVoe (DNF)

HEAT 2
29 - B. Santos
36 - R. Cabral
17 - Seitz
47 - Buonomo
45 - Payne
25 - S. Dolan
6 - Lawless
57 - Bradbury
77 - Lugelle
11 - Bundy (DNF)
10c - E. Santos(DNS)
































Waterford Speedbowl
June 13, 2004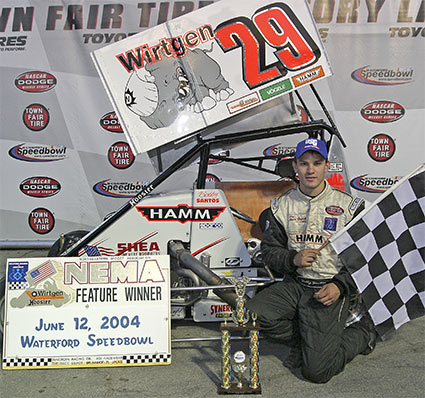 Waterford Speedbowl - June 12th
Finish
Car #
Driver Name/Hometown
1
29
Bobby Santos - Marlboro, MA***
2
2
Nokie Fornoro - Stroudsburg, PA
3
45
Joey Payne - Fairlawn, NJ
4
36
Randy Cabral - Plymouth, MA
5
44
Ed Breault - Lincoln, RI
6
50
Pete Pernesiglio - Long Island, NY
7
18
Richard Gerbe - Elmont, NY
8
48
Tim Bertrand - Watertown, MA
9
22
Doug Cleveland - Sudbury, MA
10
37
Shane Hammond - E. Bridgewater, MA
11
11
Lee Bundy - Kennebunkport, ME
12
57
Bob Bradbury - Wakefield, RI
13
7ny
Adam Cantor - Dix Hills, NY
14
6
Paul Lawless - Holliston, MA
15
81
Tim Heath - Lebanon, CT
16
25
Sean Dolan - Acton, MA
17
16
Matt O'Brien - Wilmington, MA
18
33
Tommy Spada - Berlin, CT
19
10c
Erica Santos - Marlboro, MA
20
17
Ben Seitz - Monument Beach, MA
21
13
Ed DeVoe - E. Hartford, CT
DNS
77
Mike Lugelle - Hull, MA
DQ
47
Mark Buonomo - Waltham, MA
***Hard Charger

Santos Grabs Another
NEMA Speedbowl Win
Calling Waterford Speedbowl "the most fun place to run Midgets," Bobby Santos III added another "memorable move" to his collection Saturday night, capturing the 25-lap Northeastern Midget Association feature at the Connecticut oval. It was Santos' fourth career Speedbowl win.

He might have even surprised himself with an inside move exiting turn two that moved him from third to first and propelled him to victory in the Seymour #29. Santos not only slipped by Nokie Fornoro (in the Berrio #2) for second but got leader Adam Cantor as well.

Santos then survived two more restarts to become NEMA's third winner in as many races this year. Fornoro held on for second with Joey Payne Jr., Randy Cabral and Ed Breault filling out the top five.

Fornoro was the target when, on a restart with 12 left, Santos "drove in into turn one the hardest I could. I knew I had to get Nokie right there. He's pretty hard to pass on the straight with all that power."

Pointing out "my car is better than most in the turns at Waterford," Santos "thought I was going to get Nokie but I didn't expect to get Adam at the same time." He did, however, and quickly opened up a gap on a Fornoro-Cantor battle.

Fornoro got by Cantor, now plagued with engine woes, but he had nothing for Santos on restarts with four and nine left, the latter single file. "He had it together," Fornoro said of Santos. "What are you going to do?"

Santos and Cantor were the heat winners. Mechanical woes caught both Tim Heath and Ben Seitz, winners earlier this season. They came to the Speedbowl running one/two in points.

NEMA's next races are at Thompson International Speedway on Thursday, July 1st and at Stafford Motor Speedway on Wednesday, July 14th, sharing the latter show with ISMA.
Bobby Santos was also impressive in Howie Lane's #9
Super Modified in the special ISMA exhibition. Sister Erica (in Lane's second car), Justin Belfiore and Mike Badessa were also part of the 10 lap exhibition that left a favorable impression with Speedbowl fans.

New Faces Atop Standings As NEMA Heads to "Bowl
Call it the "new breed." Call it the "new face" of the Northeastern Midget Association. Call it what you want but NEMA heads to Waterford Speedway Saturday with a couple of new winners – Tim Heath and Ben Seitz – on top of the points race.

It is the first time since 1998 that the club has had back-to-back first-time winners. Seitz, who captured the season-opener at Waterford, trails Heath, the winner at Adirondack, by 25 points. Both came to NEMA in 2002.

Veteran Ed Breault, who trails Seitz by a single tally, is part of a group hoping to make it three straight "first timers." Breault, coming in off a career-best second at Adirondack, was third earlier this season at Waterford behind Seitz and Heath.

Waterford has had six first-time winners over the past six years including Bobby Santos III and Tim Bertrand, both possibilities this week. The 2002 Boston Louie winner, Santos won twice last year and trails only four-time winner Mark Buonomo among active drivers on the Waterford win list.

Buonomo points out "it's hard to find somebody who doesn't like racing at Waterford. There are three, four lanes, a good surface and some straightaway. It's a near-perfect Midget track." The Midgets cover Waterford in the very low 13s with straightaway speeds in excess of 107 mph.

Kyle Carpenter, third at Adirondack, will be looking for justice, the youngster breaking while dominating last May. Youngsters Bobby Santos III, Carpenter, Heath, Seitz, Randy Cabral, Erica Santos and Adam Cantor have all put a new face on the 52-year old club.

Payne, last year's Boston Louie winner, has been plagued with mechanical woes this year. He understands there's a tough road ahead if he's to repeat as champion. He heads up the veterans list that includes Pete Pernesiglio and Howie Bumpus, both Waterford winners in the past.

NEMA will share the spotlight with the International Supermodified Association, the latter group coming for an "exhibition" event. A growing number of drivers race in both clubs including defending Payne and teenage sensation Bobby Santos III.

The last time NEMA had back-to-back first times was 1998 when Keith Botelho (Seekonk) and Ted Christopher (Waterford) won on the same weekend.


Photos by
Sheila Somers