Thompson Int'l Speedway
July 1, 2004


Thompson Classic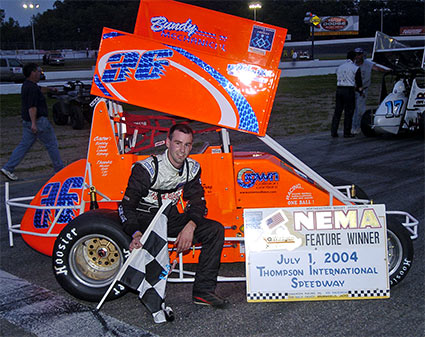 Thompson Classic - July 1st
Finish
Car #
Driver Name/Hometown
1
36
Randy Cabral - Plymouth, MA
2
17
Ben Seitz - Monument Beach, MA***
3
45
Joey Payne - Fairlawn, NJ
4
81
Tim Heath - Lebanon, CT
5
2
Howie Bumpus - Lakeville, MA
6
50
Pete Pernesiglio - Long Island, NY
7
117
Keith Botelho - Plainville, MA
8
7ny
Adam Cantor - Dix Hills, NY
9
22
Doug Cleveland - Sudbury, MA
10
18
Richard Gerbe - Elmont, NY
11
57
Ed Breault - Lincoln, RI
12
11
Lee Bundy - Kennebunkport, ME
13
35
Shane Hammond - E. Bridgewater, MA - DNF
14
48
Mark Buonomo - Waltham, MA - DNF
15
98
Mike Roselli, Jr. - Brodheadsville, PA - DNF
16
15
Ryan Dolan - Acton, MA - DNF
17
12
Kyle Carpenter - Gloucester, MA - DNF
18
16
Matt O'Brien - Wilmington, MA - DNF
19
25
Sean Dolan - Acton, MA - DNF
20
47
Ted Christopher - Plainville, CT - DNF
21
33
Tommy Spada - Berlin, CT - DNF
22
77
Mike Lugelle - Hull, MA - DNS
***Hard Charger


Randy Cabral Checkers
NEMA Thompson Classic
Thompson, CT: Randy Cabral of Plymouth, MA motored to an impressive win in the Thompson Classic presented by Atlantic Coast Trailers on Thursday Night as part of Thompson International Speedway's Independence Day Celebration. Cabral thundered to a commanding win in the 33-lap "Mini Indy" spectacular over the likes of Ben Seitz and Joey Payne. Heartbreak for Mark Buonomo turned into elation for Cabral when then-leader Buonomo slowed on the front stretch on lap 23 and headed for pit road with mechanical failure, leaving Cabral all alone for the win.

The event touted as the "Mini Indy" thrilled the fans with a flawless three-wide start. Pole sitter Adam Cantor led the opening lap with Buonomo in hot pursuit. Before the completion of the second lap Buonomo was the new leader. With Buonomo solidly out in front of the field, his teammate for the night, Thompson regular and Modified standout, Ted Christopher brought the Tim Bertrand owned #47 to pit road on lap 6 to end the Bertrand Motorsports high hopes of a clean sweep at Thompson.

By this time Cabral had moved his way up to the third position. The best battle on the field on lap nine could be found behind the front four of Buonomo, Cantor, Cabral and Payne as Seitz and Ryan Dolan went at it for the fifth spot. The two raced wheel-to-wheel with neither getting the decided advantage until Dolan was black-flagged for an apparent fluid leak. Once left to himself, Seitz set sail for the lead pack.

Cabral had reeled in Cantor and by lap 15 put the pressure on for second. He maneuvered his #36 up beside Cantor and had the position on lap 16. Cabral had a half a straightaway before he would catch the high-flying leader Buonomo. With twenty laps in the record books the running order inside the top five was Buonomo, Cabral, Payne, Cantor and Seitz. By this time attrition became a factor and was thinning the field.

On lap 23, attrition claimed its most noted victim. Buonomo, who had run out to a substantial lead, pulled onto pit road with mechanical problems. Cabral took over the point with a sizeable margin over second-running Payne. Seitz had begun to reel in Payne while Tim Heath took over the fourth position from Cantor.

The first and only caution flag of the event flew on lap 29 when Shane Hammond came to rest between turns three and four. The restart with only four laps to go tightened the pack to set up a run to the checkers with Cabral leading Payne, Seitz, Heath, Cantor and Howie Bumpus.

Cabral was able to maintain and even stretch out his lead with Payne and Seitz battling for the second position. With only two laps to go, Seitz made his move to take second. At the checkers, it was a popular win for Randy Cabral. Seitz made a good run from deep in the pack to finish second. Payne had to settle for third over Heath and Bumpus. Pete Pernesiglio, Keith Botehlo, Cantor, Doug Cleveland and Rich Gerbe completed the top ten.

Next up for the Wirtgen America, Helping Hands of America Northeastern Midget Association is the much-anticipated visit to the Stafford Motor Speedway in Stafford Springs, CT on July 14, 2004 for CARQUEST Extreme Wednesday - STORY BELOW. A full night of open wheel racing is scheduled at the half-mile. Noted guests A.J. Foyt VI and Josh Wise will join the already impressive NEMA roster. For complete details visit www.staffordmotorspeedway.com.

Epic Battle Expected at July 1st
Thompson Classic 33
presented by
Atlantic Coast Trailer Sales
Thompson, CT: The Northeastern Midget Association season will hit fever pitch on Thursday, July 1, 2004 at Thompson International Speedway with the popular Thompson Classic 25 presented by Atlantic Coast Trailers. In the tradition of the Indy 500, the lucrative 33-lap "Mini Indy" will feature a three-abreast start. The entry list for the exciting event boasts the likes of Joey Payne, Drew Fornoro, and Bobby Santos III. The event, which will also include five of Thompson's NASCAR Dodge Weekly Series divisions, will be highlighted with a fireworks display.

The fireworks will not be limited to the sky however as the Northeastern Midget Association has one of the most competitive fields in New England Racing. The list of potential winners for the July 1 event is huge. Bobby Santos III of Franklin, MA, a regular in Sunoco Modified division at Thompson, just might be the odds on favorite. He will be looking to defend his Independence Day Celebration crown as well as two-in-row in NEMA competition. He has tons of competition with previous Thompson winners Fornoro, Randy Cabral and Kyle Carpenter in the hunt as well.

NEMA has been full of surprises thus far in the young season. There are new faces in the point chase with veteran Ed Breault of Lincoln, RI atop the point standings. Breault is looking for his elusive first NEMA win. Tim Heath of Lebanon, CT is hot on his tail and has already posted a victory this season at Adirondack.

Opening day winner Ben Seitz of Plymouth has been fast this season and should be a contender at Thompson. Mark Buonomo of Waltham, MA has provided plenty of excitement thus far this season aboard the Tim Bertrand-owned racer.

The prestige of the "Mini Indy" at 5/8th mile Thompson International Speedway grows with each year, making it much sought-after win. The $10,000 purse provides each of the talented drivers of NEMA plenty of incentive as well.

"Thanks to our great sponsors, there is a lucrative purse in place for the Thompson Classic 25," said Club President Mike Scrivani, "which means a lot of great racing for the fans."

Atlantic Coast Trailers, the presenting sponsor of the Thompson Classic 25, is the leading dealer for top-of-the-line racecar haulers and a wide array of multi-purpose trailers. The friendly sales staff knows the needs of racers and provides the very best in quality customer service. Located on Route 20 in Charlton, MA, Atlantic Coast has plenty of in stock inventory or call at (888) 414-2287 for custom orders.

Atlantic Coast joins Series co- sponsors Helping Hands of America and Wirtgen America.

The action gets underway at Thompson International Speedway on Thursday, July 1, 2004 with qualifying at approximately 5:45 PM. Admission for the action-packed night of racing is $18.00 for general admission, juniors only $5.00 with children 5& under admitted free. Pit admission is $30. For complete details visit www.thompsonspeedway.com.

Photos by
Norm Marx





Race Action:




Three wide parade
lap - first two rows




Note right front in the air on the #48 - & in next shot