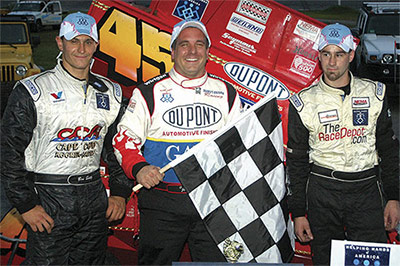 JOEY PAYNE TAKES
STAR CHECKERS
Epping, NH – The Northeastern Midget Association rolled into the Star Speedway for their second and final appearance of the 2005 season on Saturday night, and it was once again former Star Supermodified regular Joey Payne of Pomona, NJ taking down the checkered flag in the Gene Angelillo #45.

Although the night belonged to Payne, most fans in the grandstands were talking about the night Ed Breault had aboard his self-owned #44 machine, which at best can be described as up and down. Breault led the first 11 laps of the feature event before he got tangled up with the lapped car of Andy Shlatz, and that sent him to the rear of the pack.

Two laps later, Breault had a minor spin to bring the field under caution, but it was lap 15 that left the fans speechless. When Shane Hammond #37, Nokie Fornoro #50 and Doug Cleveland #78 got out of shape coming off turn four, Breault climbed the right rear wheel of
Rich Gerbe #18, and he slammed the retaining wall nearly head-on.

And if the impact with the concrete wasn't enough, Breault's car flipped over on it's right side as it slid down the track virtually destroyed, then went back up on all fours and then over on its left side before grinding to a halt about 50 yards from the point of initial contact.

To make matters worse, a small fire broke out in the engine compartment as the car sat on its side on the racing surface, although quick response from the track fire and safety crews
had the situation quickly under control, and Breault was helped from his battered racer a bit shaken up, but otherwise unhurt.

Back to racing, Randy Cabral #35 had taken over the lead after Breault's first incident, and the second restart on lap 13 gave Payne the shot he needed, as "The Jersey Jet" blasted past Cabral on the outside to put the Gary's Auto Parts Beast chassis/Gaerte-powered
machine on the point.

Cabral continued to give chase, but Payne was off and running, laying down some pretty quick laps as he stormed to victory, his second Star win of the year. Cabral held off a stiff challenge in the late laps from 2004 NEMA driving champion Ben Seitz in the Pete Valeri #17 to collect runner-up honors.
Longtime Star Supermodified competitors Chris Perley in the Don Berrio #2 and Jeff Horn in his own #A-1 made good use of their experience on the quick quarter-mile to grab fourth and fifth, while second generation racer Mike Ordway, Jr. #99, Adam Cantor #7NY, Nokie Fornoro aboard the Pete Pernesiglio #50, Mike Keeler #55 and Doug Cleveland #78 closed out the top ten.
Photos & Race Report by Rich Hayes

1 - Star Speedway NEMA feature event winner Joey Payne in victory lane.
2 - Defending NEMA driver champ Ben Seitz (17) battles with Chris Perley (2).
3 - Ed Breault gets tangles up with Andy Shlatz (22) in NEMA action.
4 - Ed Breault (44) catches a wheel as the field scrambles in front of him.
5 - Breault bounces to the track after hard impact with the retaining wall.
6 - Parts fly as Breault's car continues to bounce down the speedway.
7 - Breault turned back upright for a moment...
8 - ...before coming to a rest on it's side.
9 - The remains of Ed Breault's NEMA midget wreck.
10 - Rich Gerbe (18) battles with Lee Bundy (11).
11 - Joey Payne carries the checkers after his Star Speedway NEMA win.
12 - Joey Payne and crew celebrate their win.
13 - Star Speedway Top 3 (l to r) Ben Seitz, Joey Payne, & Randy Cabral.
14 - NEMA midget heat race action.
15 - Mike Ordway, Jy. captured a NEMA heat win.
16 - Rich Gerbe (18) and Nokie Fornoro (50) in NEMA action.
Star Speedway Finishing Order - 7/9/05
Pos.
#
Driver
Hometown
Owner
1
45
Joey Payne
Pomona, NJ
Gene Angelillo
2
35
Randy Cabral
Plymouth, MA
Glen Cabral
3
17
Ben Seitz
Monument
Beach, MA
Pete Valeri
4
2
Chris Perley
Rowley, MA
Don Berrio
5
A1
Jeff Horn
Ashland, MA
Jeff Horn
6
99
Mike Ordway Jr.
Freemont, NH
Chris Desrosiers
7
7ny
Adam Cantor
Dix Hills, NY
Cantor Racing
8
50
Nokie Fornoro
Reeders, PA
Pete Pernisglio
9
55
Mike Keeler
Danbury, CT
Kevin Keeler
10
78
Doug Cleveland
Sudbury, MA
Linda Cleveland
11
18
Rich Gerbe
Elmont, NY
Lee Gerbe
12
11
Lee Bundy
Kennebunkport, ME
Lee Bundy
13
22
Andy Shlatz
Enfeld, CT
Alex Shlatz
14
77
Mike Luggelle
Hull, MA
Mike Luggelle
15
37
Shane Hammond
E. Bridgewater, MA
Jack Glockner
16
44
Ed Breault
Lincoln, RI
Ed Breault
DNS
3m
Jim Miller
Weymouth, MA
Jim Miller
Cape Cod Aggregates "Hard Charger" - Nokie Fornoro #50