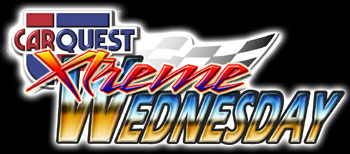 July 13, 2005 - Stafford Motor Speedway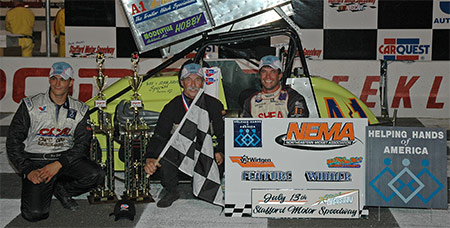 Stafford Top Three: L to R - Ben Seitz, 2nd; Winner Jeff Horn, and Chris Perley, 3rd.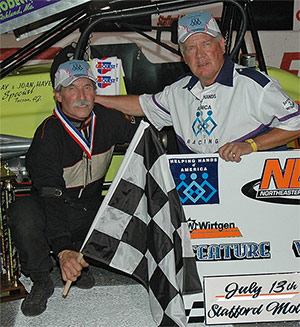 Winner Jeff Horn with Mike Jarret
of Helping Hands
Photos by Norm Marx

Jim Feeney Photo
Stafford Motor Speedway Finish - 7/13/05
Pos.
#
Driver
Hometown
Owner
1
A1
Jeff Horn
Ashland, MA
Jeff Horn
2
17
Ben Seitz
Monument
Beach, MA
Pete Valeri
3
2
Chris Perley
Rowley, MA
Don Berrio
4
29
Erin Crocker
Springfield, MA
Bobby Seymour
5
55
Mike Keeler
Danbury, CT
Kevin Keeler
6
50
Pete Pernesiglio
Lake Grove, NY
Pete Pernesiglio
7
37
Shane Hammond
E. Bridgewater, MA
Jack Glockner
8
15
Ryan Dolan
Acton, MA
Jay Dolan
9
77
Mike Luggelle
Hull, MA
Mike Luggelle
10
11
Lee Bundy
Kennebunkport, ME
Lee Bundy
11
22
Andy Shlatz
Enfeld, CT
Alex Shlatz
12
55L
Shawn Torrey
Marshfield, MA
Shawn Torrey
13
7x
Steve Viets
-
Steve Viets
14
28
Paul Luggelle
Holbrook, MA
Paul Lugelle
15
7ny
Adam Cantor
Dix Hills, NY
Cantor Racing
16
45
Joey Payne
Pomona, NJ
Gene Angelillo
17
12
Kyle Carpenter
Gloucester, MA
Brad Carpenter
18
35
Randy Cabral
Plymouth, MA
Glen Cabral
19
26
Greg Stoehr
Lakeville, MA
Bruce Beane
20
3
Tommy Spada
Kensington, CT
Gino Spada
21
47
Ted Christopher
Plainvlle, CT
Gill Bertrand
22
78
Doug Cleveland
Sudbury, MA
Linda Cleveland
DNS
99
Mike Ordway Jr.
Freemont, NH
Chris Desrosiers
DNS
25
Sean Dolan
Acton, MA
Jay Dolan
Cape Cod Aggregates "Hard Charger" Shane Hammond #37
Jeff Horn NEMA Winner at
Carquest Extreme Wednesday
at Stafford Motor Speedway
(Stafford Springs, CT - 7/13/05 - Stafford Motor Speedway Press Release) The 2nd Annual CARQUEST Extreme Wednesday, held Wednesday night, July 13th at Stafford Motor Speedway, saw NEXTEL Cup driver Ken Schrader drive to victory lane in the 15-lap CARQUEST Clash, Russ Wood drive to victory in the 50-lap ISMA Supermodified feature, Jeff Horn drive to victory in the 30-lap NEMA Midget race, and Mike Weeden was winner of the 25-lap Pro-4 Modified feature event.
The NEMA Midget feature saw Jeff Horn take the early race lead with Adam Cantor behind him. Ted Christopher was charging through the field, and moved from 11th at the start to the top-5 before crashing on lap-3 and ending his race early.
Horn continued to lead with Chris Perley moving into second. Cantor and Mike Keeler were swapping third place for several laps before Cantor took the spot.

Ben Seitz was the car on the charge, and he moved into third in less than 10-laps. Seitz continued to be the charger, and he took the lead from Horn on lap-15.

Another car on the move was the car of Evernham Motorsports development driver Erin Crocker. After falling back early in the race, Crocker was blasting her way through the field, seemingly passing cars at will.

Cantor's top-5 run ended on lap-24 when his power steering pump and then fuel pump failed, shutting down the #7ny's motor and bringing out the caution to set up a four lap sprint to the finish.

Seitz had the lead on the restart, but Horn moved under Seitz as they went back to green to take over the lead. From there, he pulled away from Seitz over the final laps to take down the win. Seitz took second, with Perley, Crocker, and Keeler rounding out the top-5.

"The tires got a little hot, the right rear got hot, and the restarts helped cool the tires off and we got going," said Horn. "The cautions definitely played to my benefit tonight. Without the cautions, we were probably at best a third place car. The last time I raced here at Stafford was 1980 in an ISMA Super show. The track is still the same, but the surface is way, way better. I've been racing for 40 years now, and I'm going to keep on racing until I can't do it anymore. We're a CARQUEST sponsored car, and it was big to win a CARQUEST race with the CARQUEST car."

"I think I caught some oil in turn 3, and this isn't my car and I was just here to have some fun, so I didn't want to take any chances," said Crocker. "Then I realized that nothing was wrong and it was time to go again. I thought I'd make it difficult for myself, instead of going from 12th I'd go from about 20th. I loved it. I've been coming here since I was little to watch and never had an opportunity to race here. I really enjoyed it. I've never drove a winged midget car, and it was a ball, a lot of fun."
CARQUEST CLASH
The 15-lap CARQUEST Clash saw NEXTEL Cup regulars Ken Schrader, Dave Blaney, and Carl Edwards taking on Sammy Swindell and Bentley Warren in USAC Silver Crown machines. Schrader started the race on the pole, and he led all 15-laps to take the win.

The first lap saw Sammy Swindell move from the back of the pack into second place. Swindell stalked Schrader throughtout the race, but was unable to make a pass for the lead. Blaney, Edwards, and Warren were dicing for the third spot lap after lap, with Warren taking the spot ahead of Edwards and Blaney at the finish.

"We took the green flag, and as I came off [turn 2] I looked at the [diamond vision] and I saw Sammy [Swindell] war running second, and I thought, 'He didn't start second, he's not playing,'" said Schrader. "I figured that if he wasn't playing, then I wasn't going to play either. It was a lot of fun out there, and I got a lucky break on the start. Carl [Edwards] thought I was Bentley [Warren] because he looked over and saw the 29, and he says to me 'I gave you plenty of room going into 1, and you weren't Bentley.' I told him, 'Sorry about your luck.'"

ISMA SUPERS
The 50-lap ISMA Supermodified feature, the battle for the win came down to a two car duel between Russ Wood and Lou Ciconni. Justin Belfiore took the early race lead from the pole, and he led the first several laps before giving the lead up to Ciconni.

Ciconni dominated the middle stages of the race, building a sizeable lead over second place Russ Wood. But once Ciconni began to run into lapped traffic, Wood was able to close the distance that Ciconni had built up.
With 20-laps to go in the race, Wood had caught up to Ciconni's bumper, and that is when their duel for the lead commenced. They split several lapped cars battling for the lead, at one point going three-wide with a lapped car in between them, all with Ciconni maintaining the lead over Wood.

But Ciconni's time at the front came to an end on lap-40 when Wood moved under him coming off the second turn to take the lead. From that point, Wood slowly pulled away from Ciconni and he nailed down the victory. Ciconni took second, with Pat Abold, defending race winner Chris Perley, and Joey Payne rounding out the top-5.

"The whole race long the car was beautiful, it just got better and better," said Wood. "All the lapped traffic was great, I was able to bide my time and pick my spots, sometimes the traffic goes your way, sometimes it doesn't. I figured it was a 50-lapper, kind of a sprint, there was no saving tires there. I didn't want to use the tires up in the beginning, but the car was awesome, just flawless, everything went our way. I'd like to thank CARQUEST for being a part of this, we really appreciate their support, and we hope to be back next year here."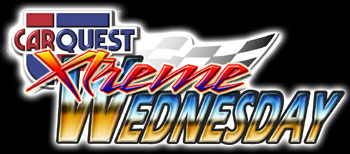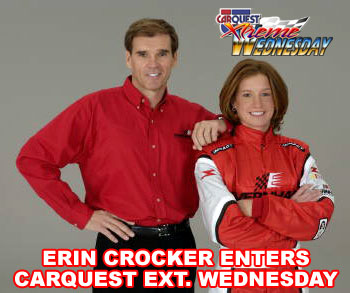 First Hometown Start Since Signing On
with Evernham Motorsports
(Stafford Springs, CT)---Move over Danica Patrick. Erin Crocker is headed home and ready to become the first female driver to win a major Motorsports event in 2005! Crocker has entered the Seymour Enterprises midget in Stafford Motor Speedway's CARQUEST Extreme Wednesday on July 13th.
This will be Crocker's first New England appearance since signing on with NASCAR Nextel Cup's Evernham Motorsports operation.

Crocker's entry swells the NEMA Midget field to more than 30 cars and promises to add increased attention to the winged series as they tackle the Connecticut half-miler for the 2nd time this season.

"I know the whole Crocker clan will be out there, so I hope Stafford loads up on tickets," chuckled the perky redhead who graduated from Rensselaer Polytechnic Institute in 2003.

Erin's career started in quarter midgets and moved quickly into mini-sprints where she started earning national attention after winning Rookie of the Year honors at Westfield, Massachusetts' Whip City Speedway. From there she moved to full size sprinters and became the first woman in the 43-year history of the Knoxville Nationals to qualify for the famed Sprint Car event. Her accomplishment earned her the Nationals Rookie of the Year title.

In addition to Crocker, several USAC midget and Sprint car regulars are expected to join the field of NEMA midgets. Bobby Santos and Mike Lewis will have their regular USAC mounts, from the Wirtgen Racing stable, outfitted with wings to see how they measure up against area stalwarts that include Joey Payne and defending NEMA champ Ben Seitz.
"It's heard to imagine a more exciting midget race than the one we saw last year at Stafford," said track president and ABC Sportscaster Jack Arute. "But as the entry deadline nears, this year's level of competition has increased to the point where this could be the highest seen in New England since the 1960's."

The NEMA midgets are just part of this star studded mid week program. Also on tap are the Pro Four Modifieds and the International Super Modified Association's winged Supermodifieds whose field will include former Indy 500 starter Joe "Double O" Gosek and racing legend Bentley Warren.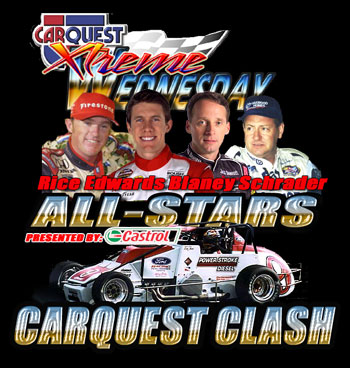 Buddy Rice, the 2004 Indy 500 champion and NEXTEL Cup Stars Dave Blaney, Ken Schrader and Car Edwards round out the program with an autograph session as well as the CARQUEST USAC all Star Clash which will see Blaney, Edwards and Schrader compete in USAC Silver Crown Cars for a winner-take-all 15 lap main event.

"I've already started hounding Bobby (Seymour) for a seat in the Clash," said Crocker. "I can be pretty persuasive when I need to be."

Advance tickets are now on sale by contacting the Stafford Speedway office. All advance ticket purchasers are automatically entered into a "Sweepstakes" with the grand prize the opportunity to ride in the Delphi Indy Car 2-seater for the start of one of the 4 feature events that night.

Advance tickets are available for CARQUEST Extreme Wednesday at $28.00 for adult general admission, $5.00 for children 6-14, and free for children 5 & under. Reserved seating is $32.00 for all ages.

For more information, or to order advance tickets to CARQUEST Extreme Wednesday, please call the Stafford Motor Speedway Track Office at 860-684-2783, or log on to www.staffordspeedway.com.

Ted Christopher Enters NEMA Midget Feature for Carquest Extreme Wednesday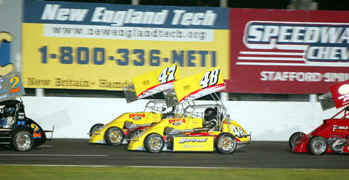 July 11 -- Suffield, CT -- Ted Christopher announced today that he was teaming up with Bertrand Motorsports for the Carquest Extreme Wednesday NEMA midget challenge. Christopher, who drove to a third place finish for the Bertrand team last summer, is extremely excited about the challenge.

"After a hiatus from the series, we decided at the last minute, for many reasons, to put Teddy in the car for the show," said team co-owner, Tim Bertrand. "We're looking forward to a great outing and are sure that Teddy can get the job done," said Bertrand.

The Bertrand entry will carry the familiar fluorescent orange and yellow banner, sponsored by Atlantic Coast Trailer Sales, Enfield Ford and NAPA of Tolland, CT.