Saturday - May 27th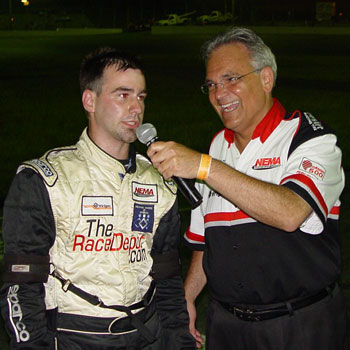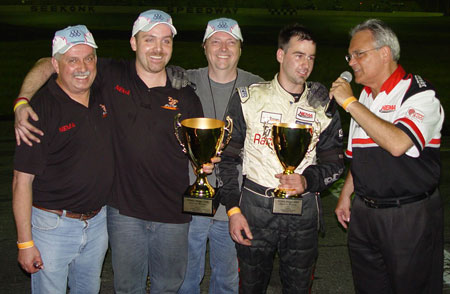 Photos Above by Todd Baptista
Wreckers to Checkers:
Randy Cabral Captures
Seekonk NEMA Win
Seekonk, MA – The last time Randy Cabral left Seekonk Speedway on October 2nd, 2005, he left with a broken heart and a severely broken race car, having suffered one of the worst midget wrecks ever at the track. It was his debut start for Bertrand Motorsports and a mechanical disaster left the team wondering whether they would be back to the North Eastern Midget Association circuit in 2006.

Grabbing the lead with an outside move through turns one and two with 14 laps remaining, the 26-year old Cabral hailing from Plymouth, MA went on to capture the Helping Hands of America/Wirtgen Group NEMA feature this past Saturday night at Seekonk. It was Cabral's third career win at Seekonk.

"To win in our third race of the season in a new car, with a new team, is pretty amazing to me. I told Tim (Bertrand) to get the car set up to run the outside, and I would go" said the elated Cabral, as his family and crew joined him in victory lane. "The motor dropped a cylinder with three laps to go, and I was just hoping that we could hold on." Cabral later discovered that his engine had broken both an intake valve and exhaust valve in the closing laps of the feature event.

Barry Kittredge and Mike Keeler led the field to the green flag. Quickly, Keeler jumped out into the lead with the wily veteran Jeff Horn tucked in behind him. They were followed by Shane Hammond, filling in for Nokie Fornoro in the Mike Jarrett entry, and eighth place starter Cabral who had worked his way to the front using the outside groove.

Within the first five laps, attrition began to play a factor as Keeler and Joey Payne in the Gene Angelillo #45 were both in the infield with engine related mechanical issues. Payne and Keeler, both heat winners from the evening, have suffered a number of uncharacteristic engine related issues this year.

With Keeler retired, Horn assumed the lead with Cabral closing steadily each lap. By the eighth lap, it was Horn followed by Cabral, Hammond and 2005 champion Ben Seitz, who had worked his way to the front methodically from twelfth place.

A lap eleven restart, would however change the game. On the first try, Horn brought the field down at a fierce pace, but starter Steve Grant would have no part and called back the field for another chance. On the second try, the green flag flew and the young Cabral rocketed by Horn on the outside to take the lead.

For the next fourteen laps, Cabral, in the Bertrand Motorsports entry, would continue to stretch out his lead by two tenths of a second per lap as he and Horn worked their way feverously through lapped traffic. Cabral turned in the fastest lap of the feature while running through lapped traffic at 11.39 seconds.

"When Randy went by, I could tell how good he was working", said Horn. "We were getting looser and looser and it was going to be tough to catch him."

With three laps remaining, Cabral's car began to slow, but his near three second margin would only shrink to 1.879 as he would go on to claim victory over Horn, Seitz, Hammond and the "Hard Charger" for the event, Mike Ordway Jr., who came from the seventeenth starting position after a heat race misfortune to finish fifth.

Greg Stoehr, Pete Pernisiglio, Barry Kittredge, Adam Cantor, and rookie contender Cory Cleary rounded out the top ten.

NEMA now enters a five week hiatus as the club prepares for their July 6th event at Thompson Speedway, followed by a July 11th "Extreme Tuesday" event at Stafford Speedway.

Margin of Victory: 1.879 seconds

Fastest Lap: #47-R. Cabral, 11.396 sec., (105.195 MPH)
Photos by John DaDalt
www.pbase.com/ajhotmix
NEMA Feature - Seekonk Speedway - Sat. 5/27
Pos.
#
Driver
Hometown
Owner
1
47
Randy Cabral
Plymouth, MA
Tim Bertrand
2
A1
Jeff Horn
Ashland, MA
Jeff Horn
3
17
Ben Seitz
Monument
Beach, MA
Pete Valeri
4
4
Shane Hammond
E. Bridgewater, MA
Mike Jarret
5
99*
Mike
Ordway Jr.
Freemont, NH
Power Point
Racing
6
26
Greg Stoehr
Bridgewater, MA
Greg Stoehr
7
80
Pete Pernesiglio
Lake Grove, NY
Peter Pernesiglio
8
21
Barry Kittredge
Marlboro, MA
Barry Kittredge
9
7ny
Adam Cantor
Dix Hills, NY
Cantor Racing
10
36
Cory Cleary
Plymouth, MA
Glen Cabral
11
49
B.J. MacDonald
Dublin, PA
B.J. MacDonald
12
54
Keith Botelho
Attleboro, MA
Marco Campanale
13
77
Mike Lugelle
Hull, MA
Mike Lugelle
14
44
Ed Breault
Lincoln, RI
Ed Breault
15
28
Paul Lugelle
Holbrook, MA
Paul Lugelle
16
87k
Bobby Kuiken
Prompton, NJ
Robert Kuiken
17
52
Kevin Park
Foxboro, MA
Kevin Park
18
DNF
16
Matt O'Brien
Wilmington, MA
Jim O'Brien
19
DNF
62
Chuck Morton
Greenville, SC
Chuck Morton
20
DNF
55
Mike Keeler
Danbury, CT
Kevin Keeler
21
DNF
45
Joey Payne
Fairlawn, NJ
Gene Angellilo
DNS
32
Jim Pillion
Newtonville, MA
Jim Pillion
*Cape Cod Aggregates "Hard Charger"- Mike Ordway Jr.

Top Six of Heat One - Seekonk 5/27

1
45
Joey Payne
Fairlawn, NJ
Gene Angellilo
2
4
Shane Hammond
E. Bridgewater, MA
Mike Jarret
3
47
Randy Cabral
Plymouth, MA
Tim Bertrand
4
21
Barry Kittredge
Marlboro, MA
Barry Kittredge
5
44
Ed Breault
Lincoln, RI
Ed Breault
6
36
Cory Cleary
Plymouth, MA
Glen Cabral

Top Six of Heat Two - Seekonk 5/27
1
55
Mike Keeler
Danbury, CT
Kevin Keeler
2
17
Ben Seitz
Monument
Beach, MA
Pete Valeri
3
A1
Jeff Horn
Ashland, MA
Jeff Horn
4
26
Greg Stoehr
Bridgewater, MA
Greg Stoehr
5
54
Keith Botelho
Attleboro, MA
Marco Campanale
6
7ny
Adam Cantor
Dix Hills, NY
Cantor Racing
-