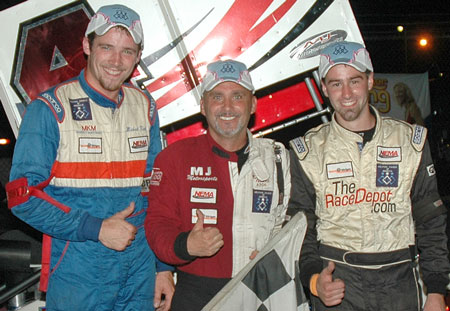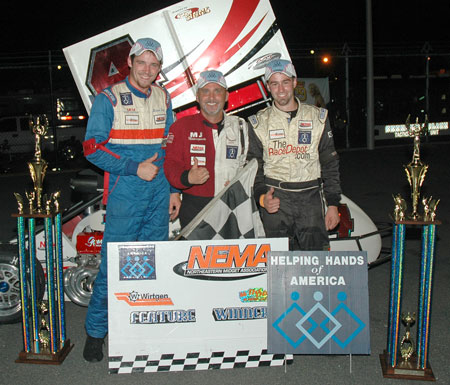 Nokie over Randy by .061 sec! Mike 3rd.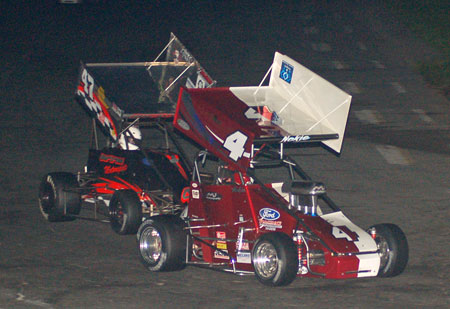 NEMA Feature - Seekonk - Wednesday 7/26/06
Pos.
#
Driver
Hometown
Owner
1
4
Nokie Fornoro
Stroudsburg, PA
Mike Jarret
2
47
Randy Cabral
Plymouth, MA
Tim Bertrand
3
55
Mike Keeler
Danbury, CT
Kevin Keeler
4
17
Ben Seitz
Monument
Beach, MA
Pete Valeri
5
80
Pete Pernesiglio
Lake Grove, NY
Peter Pernesiglio
6
26
Greg Stoehr
Bridgewater, MA
Greg Stoehr
7
47a
Jeff Horn
Ashland, MA
Tim Bertrand
8
98s
Bobby Santos
Franklin, MA
Robert Santos Jr.
9
54
Keith Botelho
Attleboro, MA
Marco Campanale
10
44
Erica Santos
Franklin, MA
Ed Breault
11
99
Mike Ordway Jr.
Freemont, NH
Power Point
Racing
12
36
Cory Cleary
Plymouth, MA
Glen Cabral
13
21
Barry Kittredge
Marlboro, MA
Barry Kittredge
14
18
Rich Gerbe
Elmont, NY
Lee Gerbe
15
62
Chuck Morton
Greenville, SC
Chuck Morton
16
22
Andy Shlatz
Enfield, CT
Alex Shlatz
17
2
Lee Bundy
Kennebunkport, ME
Lee Bundy
18
52
Kevin Park
Foxboro, MA
Kevin Park
19
DNF
7ny
Adam Cantor
Dix Hills, NY
Cantor Racing
20
DNF
87k
Bobby Kuiken
Prompton Lakes, NJ
Robert Kuiken
21
DNF
3
Tommy Spada
Kensington, CT
Gino Spada
22
DNF
35
Shawn Torrey
Marshfield, MA
Shawn Torrey
23
DNF
16
Matt O'Brien
Wilmington, MA
Jim O'Brien
24
DNF
49
B.J. MacDonald
Dublin, PA
B.J. MacDonald
25
DNS
37g
Shane Hammond
E. Bridgewater, MA
Jack Glockner
26
DNS
15
Ryan Dolan
Acton, MA
Jay Dolan
27
DNS
30
Paul Scally
Randolph, MA
Paul Scally
28
DNS
87
Doug Cleveland
Sudbury, MA
Doug Cleveland

Seekonk 7/26 Race Awards
Award Details Here
Hard Charger Award - Randy Cabral #47/Erica Santos #44

Valeri Const. 9th Place Award - Campanale #54

Cape Cod Aggregates 1st Car Out Award - MacDonald #49

Cape Cod Aggregates Last Car Out Award - Cantor Racing 7ny

Weiland Award - O'Brien #16

Design 500 5th Place - Pernesiglio #80

Leaf Race Wear 6th Place - Stoehr #26

Fornoro Pads NEMA Record with Another Seekonk Victory
Seekonk, MA (July 26, 2006): Nokie Fornoro of Stroudsburg, PA went into Wednesday night's main event as the all-time win leader for the Northeastern Midget Association at Seekonk Speedway. He left proving his prowess and with another victory-bringing his career win total to seven at the Cement Palace. His team also pocketed $2,000 for the feature victory.

Fornoro started from the fifth position and became a factor before the completion of the first lap. On the initial start, Fornoro rocketed into the second position behind Mike Keeler. It took only a short time for Fornoro to put his M.J. Motorsports #4 into the top spot. A restart on lap six opened the door for Fornoro who took over the lead on the backstretch. The veteran open-wheeler had to fend off a handful of young guns, including a late race heated battle with Randy Cabral, to claim his place in victory lane.

The Seekonk Speedway has always provided the Northeastern Midget Association with a place to shine, a place to showcase the club's talent and competitiveness. And Wednesday night was no different. The action heated up right from the drop of the green flag as a three-car battle for the top spot erupted immediately. Pole sitter Barry Kittredge jumped out to the lead with Fornoro trying the high line; but it was Keeler who led the first lap with a move to the inside.

A quick caution for a spin by B.J. MacDonald slowed the action. On the restart, Keeler retained his lead on Fornoro and Pete Pernesiglio. Ben Seitz made his move into the top-five by passing Kittredge on the restart.

The second caution of the even flew on lap six for a two-car spin. As has been the story for much of the season, bad luck reared up for Adam Cantor, who brought his #7NY down pit road for service under the caution. They lined up for the green with Keeler leading Fornoro, Pernesiglio, Seitz and now Randy Cabral inside the top-five.

Keeler would not be so lucky on this restart. Fornoro went to the bottom of the racetrack to take over the lead on the backstretch while Seitz and Pernesiglio took chase. Greg Stoehr, Jeff Horn, driving for the Bertrand Motorsports team, and Bobby Santos III became part of the action up front as well.

On lap 14, Bobby Kuiken slowed bringing out the third caution. Once back under green, a great battle was brewing behind leader Fornoro between Keeler, Seitz, and Cabral. Keeler was able to maintain the runner-up spot over Seitz. Both; however, would fall to the charge of Cabral. He used the outside grove to take third from Seitz on lap 15 and then second from Keeler on 16.

Cabral quickly reeled in leader Fornoro. On lap 17, the lead duo made slight contact. Cabral lost some ground but quickly regained his composure. The top five in the running order was Fornoro, Cabral, Keeler, Seitz and Pernesiglio.

Over the closing laps of the event, Cabral resumed his assault on the leader. The two diced for position with Fornoro coming out on top. Cabral settled for second over Keeler, who has scored consecutive podium finishes. Seitz and Pernesiglio rounded out the top five. It was a good night for the remainder of the top ten, which included Stoehr, Horn, Bobby Santos, Keith Botelho and Erica Santos.

Fornoro became the fifth different winner in the six races held for NEMA this season. Also scoring victories in 2006 are Joey Payne, Ben Seitz, Randy Cabral and Bobby Santos III. Cabral is the only repeat winner. The absence of Payne and the Gene Angelillo led team was felt on Wednesday night. The NEMA community eagerly awaits their return.

The next event for the Northeastern Midget Association is scheduled for Saturday, August 5, 2006 at the Waterford Speedbowl in Waterford, CT. For more information visit www.speedbowl.com.