The 2nd Annual
Shane Hammond Memorial Race
Saturday, July 30th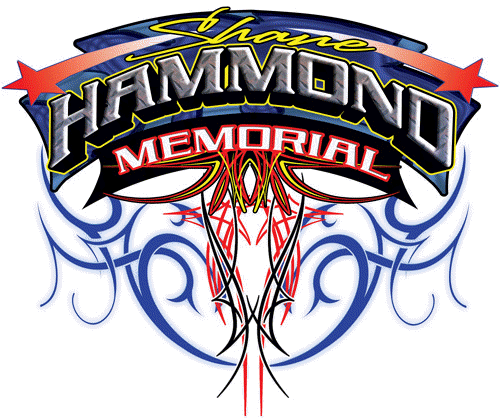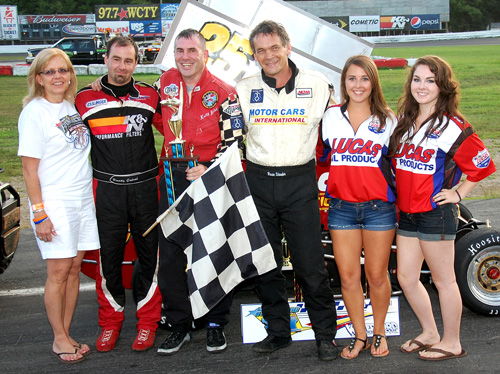 Photos by Norm Marx
NEMA Hammond
Honors To Botelho
Waterford, CT –Keith Botelho won the 27-lap Northeastern Midget
Association' second annual Shane Hammond Memorial Race Saturday night at Waterford Speedbowl. Beating back a restart challenge from Russ Stoehr with five laps left was the only challenge for Botelho who led every lap.

"Just when I think I'm getting too old for this," said the 48-year old Botelho whose No. 25 is owned by Russ and Greg Stoehr. Point leader Stoehr (Dumo's Desire #45), Randy Cabral (Bertrand #47), Todd Bertrand (Bertrand #39) and Jeremy Frankoski (Canton #7ny) completed the top five.

"This is a big one," offered Botelho, a close friend of Hammond who passed away following a crash at Thompson Speedway three years ago.

Botelho, who credited crew Carl and Kurt Kibbe with the win, was in command immediately. The apparent romp ended when Paul Scally (Scally #30), running second, lost a radiator hose. Mike Horn(Horn #93x), in third, spun in the water, ending up in the second turn wall.

"When the caution came out and the 45 and 47 are behind you, you don't expect to win the race," continued Botelho. Still, he "prayed that the right rear had six laps left" and "took two turns out of the weight jacker to tighten up the car." He then got an impressive jump on the single-file restart.

"If I could have got up to the outside, maybe I had something for him," said Stoehr, last year's Hammond Memorial winner. "Keith moved up to check the spot. He did what I would have done. I'm happy for them."

"Maybe I'll get fired," joked Cabral after passing teammate Todd Bertrand on the final lap to make the podium.

Stoehr and Botelho were the heat winners. "We were good in the heat but I didn't expect to get away like we did in the feature," said Botelho who had the fastest feature lap (13.201). "Credit Carl and Kurt with this win."

It was the fifth career win for Botelho. The No. 25 team captured last fall's DAV at Seekonk.

The suddenly busy NEMA heads to Twin State Speedway Saturday night with five winners in the last five races.




Botelho's car is powered by Gaerte motor that Russ Stoehr has owned since 1991.


Deb Marvuglio's efforts again made it a memorable evening. It is already a coveted win for NEMA competitors.


It was a heartbreaking night for both Scally and Horn who appeared to be headed for podium spots before the incident. It was Scally's best run of the season.


Randy Cabral's 13.258 was the second fastest feature lap and it came after the caution. He also had the quickest heat lap (13.418).


Greg Stoehr, who came into the race second in points, was involved in the caution-producing incident and wound up seventh.
NEMA Feature - Waterford - Sat., July 30th
Pos.
#
Driver
Hometown
Owner
1
25
Keith Botelho
Attleboro, MA
Russ Stoehr
2
45
Russ Stoehr
Lakeville, MA
Dumo's Desire Racing
3
47
Randy Cabral
Plymouth, MA
Tim Bertrand
4
39
Todd Bertrand
Suffield, CT
Bertrand
Motorsports
5
7ny
Jeremy Frankoski
Huntersville, NC
Cantor Racing
6

49

B.J. MacDonald
Dublin, PA
B.J. MacDonald
7
26b
Greg Stoehr
Bridgewater, MA
Greg Stoehr
8
99
Anthony Nocella
Woburn, MA

Susan

Santa Maria
9
22
Chris Leonard
Pelham, NH
Dave Leonard

10

2
Lee Bundy
Kennebunkport, ME
Lee Bundy

11

16
Matt O'Brien
Wilmington, MA
Jim O'Brien
12


DNF

30
Paul Scally
Raynham, MA
Paul Scally
13


DNF

93x
Mike Horn
Ashland, MA
Jeff Horn
14


DNF

44

Erica Santos
Franklin, MA
Ed Breault
15


DNS

9
John Zych, Jr.
Liverpool, NY
John Zych, Sr.

Heat #1:

45 - 30 - 47 - 93x - 44 - 2 - 22

Heat #2:

25 - 7ny - 26b - 9 - 99 - 49 - 39 -16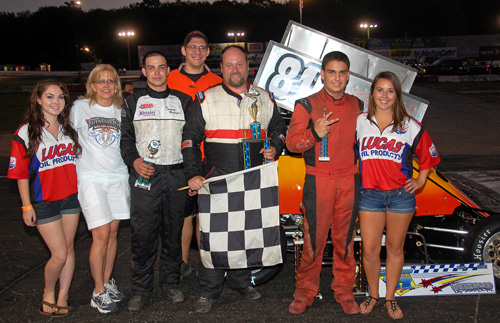 Photos by Norm Marx
Andy Barrows Scores First Career NEMA LITES Feature in
Shane Hammond Memorial Race
(Waterford CT.) Andy Barrows scored his first-ever NEMA Lites feature victory in the second-annual Shane Hammond Memorial Race at the Waterford Speedbowl on Saturday evening.

The 27-lap event is held yearly in honor of the popular Hammond, who lost his life in a NEMA event at the Thompson Speedway in April 2008.

Passing polesitter Paul Bigelow on lap-5 Barrows took command early, quickly building-up a substantial lead. The battle behind him was a heated affair, as Bigelow, Anthony "Bug" Marvuglio (brother of the late Hammond), and Joey Mucciacciaro battled for the runner-up spot.

Following each of the events three restarts Barrows maintained the lead, eventually sneaking-away by several car-lengths. The final yellow occurred with only 2-laps remaining.

Mucciacciaro passed Marvuglio for 2nd on the final circuit. Rounding-out the top-5 were Bigelow and David Moniz.

"This is a great night for me for sure, being my first-win" stated Barrows in victory lane. "I'd like to thank my crew for getting me here, and also all of the fans that came out tonight for this special event honoring a friend. I'd also like to mention my dad, who unfortunately isn't here as he's not been feeling well."

Second-place Mucciacciaro admitted to his car getting "better" as the race wore-on. "Really, the car got much faster after the tires came-in on the longer runs" he stated. He dedicated his podium finish to his grandmother who passed away on Thursday.

Completing the top-3, a happy Marvuglio felt good in stating that the race was one that his late brother Shane would have approved-of. "It was awesome. I started the race just wanting to bring the car to the finish in one-piece and we accomplished that tonight. Really, the event went just the way my brother would have wanted. I'm very happy with getting a top-3 tonight."

Heat winners were Barrows and Jim Santa Maria.

The NEMA Lites next see action at Massachusetts' Seekonk Speedway on Friday evening, August 5. The next night they appear at Twin State Speedway in Claremont, New Hampshire.
LITES Feature - Waterford - Sat., July 30th
Pos.
#
Driver
Hometown
Owner
1
81
Andy Barrows
New Ipswich, NH
Andy Barrows
2
9
Joey Mucciacciaro
Wolcott, CT
Bobby Seymour
3

21

Anthony Marvuglio

E. Bridgewater, MA

Jennifer Scrivani
4
31
Paul Bigelow
Berlin, CT
Randy Bigelow
5
18
David Moniz
Fairhaven, MA
David Moniz
6
44
Christian Briggs
Mattapoisett, MA
Christian Briggs
7
99
Jim Santa Maria
Burlington, CT
Susan Santa Maria
8
26b

Bethany Stoehr
Bridgewater, MA
MCI Racing/
Greg Stoehr
9
4

Randy Cabral
Plymouth, MA
Paul Scally
10


DNF

28
Paul Luggelle
Holbrook, MA
Paul Luggelle
11


DNF

13
Ryan Bigelow
E. Hampton, CT
Randy Bigelow
12


DNF

46
Kenny Johnson
Bethany, CT
Jeff Johnson
13


DNF

52
Kevin Park
Foxboro, MA
Kevin Park
14


DNF

7x
Kelly Ferrell
Champlin, CT
Jack McKeon
15


DNS

47
Lanson Fornoro
Stroudsburg, PA
Julia Parker
16


DNS

36
B.J.

MacDonald

Dublin, PA

Glen Cabral
17


DNS

71
Seth Carlson
Brimfield, MA
Gene Feigel

HEAT 1

-

99 - 18 - 9 - 13 - 52 - 7x - 26b - 4 - 71dns

HEAT 2

-

81 - 21 - 46 - 44 - 31 - 28 - 47dnf - 36dns
---
Hammond Memorial Next For NEMA
Brockton, MA – The busy Northeastern Midget Association with four winners in the last four races, visits Waterford Speedbowl Saturday night for the second annual Shane Hammond Memorial Race. It is part of the Speedowl's Nostalgia Weekend

The NEMA Lites will be on the agenda as well as NEMA and the Shane Hammond Believe Foundation honors yhe young and dedicated driver it lost three years ago. The 27-lap feature coupled with the 10 lap heats equals Hammond's number 37.

"Hopefully we found something tonight," said Randy Cabral, after scoring his first win of the season last week at Seekonk. "You know how I feel about the Hammond race." Cabral, NEMA's all-time top winner (8) at Waterford, and Hammond were the closest of friends.

The winner of the Hammond Lites feature last year, the usually reserved Cabral might even be allowing himself to think about a sweep. "Winning either one will not be an easy chore," he declares.

"Everybody seems to run their best at Waterford," agrees current point leader Russ Stoehr. Many considering the three-eighths oval the best paved Midget track in the northeast.

Russ and Greg Stoehr and Mike Horn join Cabral on the 2011 win list. Greg Stoehr, a winner at Lee, has emerged as the major hurdle in brother Russ' bid to defend the 2010 NEMA title. Since chasing Russ home at Thunder Road, Greg has missed the podium only once.

Last year's Hammond Memorial victory is part of a Waterford run for Russ Stoehr that has produced nothing worse than seconds over the last seven races. That includes a win in this year's season opener. Stoehr's 12.875 lap in last year's Angelillo Memorial will be a target as well Saturday night.

Still, Waterford has provided plenty of surprises and counting out Jeff Abold and Jeremy Frankoski, both coming off strong Seekonk efforts, is dangerous. Horn, Keith Botelho and John Zych Jr. are other threats. All have shown speed at the 'Bowl in the past.

Anthony Nocella, Ryan Bigelow and Paul Luggelle already have Lites wins at the Speedbowl this year. You can throw Russ Wood Jr., rookies Seth Carlson and Brandon Igo, David Moniz, Andy Barrows, Carl Medeiros Jr. into the mix as well.

Last year, standing in Victory Lane after the Lites feature, Cabral asked the fans to yell out Shane's name. The crowd responded.

"Everybody feels the emotion," says Cabral.

SHMR Awards & Laps Page HERE




The Hammond Memorial is already on NEMA's "special list" joining the Marvin Rifchin Trophy Race and the up-coming Boston Louie Memorial and the Angelillo Memorial. Deb Marvuglio's work in honoring the memory of her son has been tireless.


A number of car owners expected to be on hand Saturday night are Waterford/NEMA winners including Bobby (five) and Mike Seymour, Jeff Horn, Adam Cantor and Tim Bertrand. Bertrand's win came on June 15, 2002 and he beat Randy Cabral with Bobby Santos III third.


Cabral continues to crowd history. He has won in 12 straight seasons. Only the Dave Humphrey's 16 tops it. With 31, Cabral now sits two shy of fifth-place Bill Eldridge on NEMA's all-time win list.


Lee USA winner Greg Stoehr is the 29th driver to reach double figures on the win list.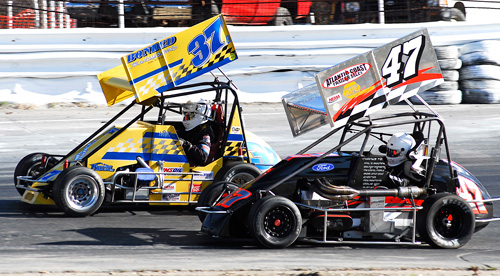 Shane Hammond (#37) and Randy Cabral (#47) doing battle
in Nov. of 2006. (Photo by John Dadalt)

Paul Lawless (#6), on his way to victory, leads Mike Seymour (#1)
and Babe Shaw (#107) at the Speedbowl in 1996. (Photo by Rene Dugas)
2nd Annual
Shane Hammond Memorial Race
CORPORATE SPONSORS
-

Motor Cars International
Bertrand Motorsports
Circle Performance

Risque Racing
Mike's Automotive

Atlantic Trophy

Waterford Speedbowl

RWJM

NEMA


Shane Hammond Memorial Race
SPECIAL AWARDS
NEMA Hard Charger -

Jeff Horn - $100.00 - #45

LITES Hard Charger - Critter Catchers - $50.00 - #9
NEMA Hard Luck - Bill Roberts - $50.00 - #93x
LITES Hard Luck - Christian Briggs Team
- $100.00 - #28
NEMA Longest Tow -
LITES Longest Tow -
NEMA Shane Hammond Underdog Award
- Shane Race Fan - $50.00 - #2
LITES Shane Hammond Underdog Award
- Shane Race Fan - $50.00 - #52
NEMA Sportsmanship Award
- Grass Groomers - $50.00 - #16
LITES Sportsmanship Award - Kevin Park - $50.00 - #47
NEMA Last Car to Take the Checkers
- Lee Gerbe - $100.00 - #16
LITES Last Car to Take the Checkers


- In memory of Iron Mike - $100.00 - #4


Shane Hammond Memorial Race
NEMA LAP BOARD
1
Leader - Pete Falconi


Position 9 - Joe Santa Maria

2

Leader - Derek Pernesiglio

3
Leader - Chris Romano


Leader - Joe Fiore

4
Leader - Scott Law
Leader - BJ MacDonald - $100.00
5
Leader - Scott Law
6

Leader - Carmela's


Position 6 - The Martino Family
7
Leader - In Memory of Kerianne Luggelle


Leader - Joe Fiore


Position 3 - Racing with Jesus Ministry
Position 7 - In Memory of Kerianne Luggelle
8
Leader - In Memory of JBill
Position 7

- Linda & Doug Cleveland

9
Leader - Gil Bertrand
Position 2 - JZ Motorsports
Position 9 - Joe Santa Maria
10

Leader - Kurt Keirmont

11

Leader - The Seitz Family

12

Leader - In Memory of JBill

13
Leader - TBD (Please come forward)
14

Leader - Music Unlimited

15

Leader - Dave Shore


Position 9 - Joe Santa Maria
16
Leader - Jim O'Brien & Sons Engineering


Position 16 - Jim O'Brien & Sons Engineering

17

Leader - Duxbury Dental

18

Leader - Crown Collision

19

Leader - Circle Performance


Position 2 - JZ Motorsports
20

Leader - Risque Racing


Position 9 - Joe Santa Maria
21

Leader - Mike Scrivani


Position 7 - Abby, Joan, & Frank
22

Leader - MotorCars International

23

Leader - Mark Chaise - Thirty Marketing

24

Leader - United Consultants

25

Leader - Maier Family

26

Leader - Briggs Racing

27
Leader - Kurt Keirmont


Leader - Kahan Family




Position 9 - Joe Santa Maria


NEMA FINISHING POSITIONS
1
Chuckran Auto Parts

- $500 - #25


Jeff Abold
2
Lee Gerbe


JZ Motorsports

3
4
5
6
7
8
9
10
11
12
-
13
-
14
15
16
In Memory of Jim O'Brien
17
-
18
-
19
-
20
-
Heat 1 Winner -

Chuckran Auto Parts - $250 - #25

Heat 2 Winner - Chuckran Auto Parts

- $250 - #45


Shane Hammond Memorial Race
LITES LAP BOARD
1

Leader - Music Unlimited

2

Leader - Bill's Landscaping

3

Leader - In Memory of JBill

4

Leader - DJ Emelita


Position 7 - Norm Marx #47
5

Leader - Duxbury Dental

6

Leader - Carmela's


Position 6 - The Martino Family
7
Leader - In Memory of Kerianne Luggelle
Position 7 - In Memory of Kerianne Luggelle
8

Leader - Dave Shore

9

Leader - Crown Collision

10

Leader - Circle Performance

11

Leader - Risque Racing

12

Leader - MotorCars International

13
Leader - TBD (Please come forward)
14

Leader - In Memory of JBill

15

Leader - United Consultants

16

Leader - Maier Family

17

Leader - Briggs Racing

18

Leader - Kahan Family

19

Leader - Linda & Doug Cleveland

20
21

Leader - Mike Scrivani


Position 7 - Abby, Joan, & Frank
22
23
24
25
26
27

LITES FINISHING POSITIONS
1
Chuckran Auto Parts - $500 - #81
2
Lee Gerbe


The Race Depot

3
-
4
-
5
-
6
-
7
The Race Depot
8
-
9
The Race Depot
10
-
11
A Shane Hammond Fan
12
-
13
-
14
-
15
-
16
-
17
-
18
-
Heat 1 Winner - Chuckran Auto Parts

- $250 - #81

Heat 2 Winner - Chuckran Auto Parts

- $250 - #99