Bobby Santos Sr.
"the Frito Bandito"
passed away on
Thursday, Dec. 21st, 2006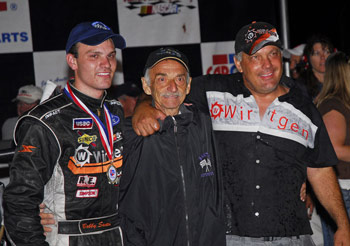 "MAZDA PETE IS A GRANDFATHER"

MICHAEL PETER PERNESIGLIO
BORN 7 LBS 1 OZ
11:06 AM - DEC 17th, 2006

Congratulations to Pete and Angela
on their first!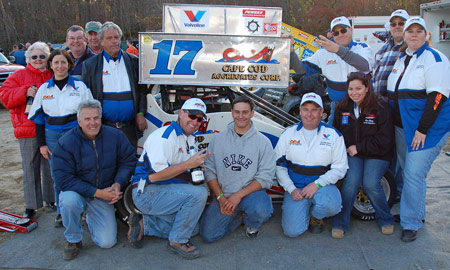 Seitz Set to Wear NEMA Crown Again

Manchester, CT (November 27, 2006): Ben Seitz of Monument Beach, MA has rightfully earned his place in the record books of the Northeastern Midget Association. On January 13, 2006 at White's of Westport in Westport, MA, Seitz formally will be crowned with his third-straight Northeastern Midget Association championship. He will join only two other drivers-Dave Humphrey and Russ Stoehr-to earn the distinction in the 54-year history of the Club.

"I would never even put myself in their category," said Seitz of his fellow record-holders. "Just to be mentioned in the same breath with Dave Humphrey and Russ Stoehr is a huge honor."

Like Stoehr before him, Seitz has won the consecutive titles for a single car owner. He has earned each of the championships driving the potent #17 for Peter and Lynne Valeri. With Seitz's raw talent and Valeri's wisdom along with their matched hunger for victory, the two have shown to be a perfect compliment and proven to be a winning combination.

Dedicated families and a handful of hardworking volunteers solidify the efforts of the duo. The Valeri team also enjoys the steadfast support of sponsors like Cape Cod Aggregates and the Sam Lorusso Family that allows them the resources to compete among the powerhouse teams in NEMA.

"This is truly a team effort. I like to think that Pete and I do our part," said Seitz, "but we would not have gotten this far without the support of a bunch of other people that more than pull their weight with this team. I have to thank my entire family, Buck Gilbert, Jimmy Morragio, Eddie Parker, Dick Bean and, of course, Mike Scrivani."

"Our team is fortunate to have the very best equipment thanks to Esslinger and Bob East," continued Seitz. "We have the strongest chassis and engine combination in Midget Racing with these two companies and their amazing staffs."

Unlike years past, the 2006 season was not a dominating one for the Peter Valeri-owned race team. It was a consistent season with two victories, six top-five and nine top-ten finishes in 11 starts.

"It was a slow and steady season," said Seitz. "This one was won more in the shop than on the race track."

With only one DNF (did not finish) during the entire season, it seems that the maintenance program was the key to the success of the team this season.

"We did not run exceptionally well this year," said Seitz modestly. " We ran okay at most tracks but we struggled on the short tracks like Seekonk and Waterford this year. We sort of backed into this one."

"Joey Payne was definitely the man to beat in 2006. Without the wreck at Stafford the Angelillo team would definitely be the champs. They were unbelievable this season."

Despite missing two races, Payne and Angelillo finished an astonishing fourth in the final point standings. Their record-two wins and seven top-five finishes in nine starts.

The 2006 season was one of the most competitive in recent memory. A total of six drivers visited victory lane. No driver scored more than two wins. The champ scored his two victories of the 2006 season at the two biggest tracks on which NEMA competes-the Stafford Motor Speedway (April 30) and Thompson International Speedway (October 15).

The noted highlight of the season for Seitz was the win in the XTRA-Mart World Series of Stock Car Racing at Thompson International Speedway in October.

"The October race at Thompson was the best race of the year for us," said Seitz. "It was crunch time and we handled the pressure and came home with the win. "

Other drivers doubling up included Randy Cabral, Nokie Fornoro, Joey Payne and Bobby Santos III. The only other winner in 2006 was Mike Keeler. These numbers speak for the parity in the top tier of NEMA competition.

Randy Cabral, in his first full season driving for owner Tim Bertrand, came home second in the final point standings with two wins, eight top-five and nine top-ten finishes in 11 starts. Nokie Fornoro, who missed a race due to a conflict with the International Supermodified Association (ISMA) schedule, to which he also competes, managed to finish third in the final point standings also with two victories, seven top-five and eight top-ten finishes in 10 starts. Shane Hammond had a standout season rounding out the top-five, one spot behind Payne.

"This championship was a little bit more nerve-racking than the others. Toward the end, Randy (Cabral) and Nokie (Fornoro) were right there point-wise and on the track Joey (Payne) was a huge threat."

Like the championships that came before, Seitz and company were able to withstand the pressure of a heated point race with tremendously talented rivals to take home the biggest honor in NEMA.

"They are all special," responded Seitz when asked how this championship differed from the others. "They all will be with us forever."

"Winning one title is a great accomplishment but three is a tribute to everybody on this team.

"And winning never gets old."
Johnny Coy Sr. passed away Saturday, Oct. 29th at 6 AM. A long-time competitor in ARDC and NEMA, he won many NEMA races. His son Johnny Jr. was also a NEMA racer.
| | |
| --- | --- |
| | July 20, 2006 |
NEMA would like to congratulate Randy Cabral and Tim Bertrand on their second win of 2006 at Thompson International Speedway on July 6th, and also Bobby Santos III and his family on their win at Stafford Speedway on July 11th.

We also had a few teams return to competition over the last few races. We would like to say thank you and welcome back to the Dolan family with the 15 car and Doug Cleveland in the 87.

Also, congratulations to BJ Macdonald and family on the birth of their son, John Matthew, on Saturday the 15th. BJ is also donating a $150 gift certificate per race for LEAF Racewear – for the 6th place finisher. Thank you BJ!

As you all may know from Stafford, it has been decided that the August race at Stafford will be a NON points combined show with USAC and ARDC. The show will be run wingless and it will be governed by NEMA and NEMA rules – with the exception of the Toyota motor rule for obvious reasons. The tire rule will allow for a 7.3RR or 7.8RR tire, and NO STICKER TIRES for the feature.

Hopefully all of our members will support this race as Stafford has been increasingly generous to NEMA over the past three seasons, and we hope to continue that relationship with even more races in 2007, and…

There will be a $12,000 purse for this event!

Gates will open at 11AM, with a "round robin" style practice from 1PM to 6PM for the Midgets, Trucks and Big Cars.

PLEASE REGISTER ASAP at WWW.STAFFORDMOTORSPEEDWAY.COM to show your support for the race. Please help!

As for an update on Joey Payne, he was released early in the morning following the Stafford race with bruises and a concussion.

Joey's accident brings up the next issue that we would like to discuss, which is safety. Investing in safety equipment such as good seats, head and neck devices, and so on – will keep all of our valued drivers and friends safe on the racetrack.

Bobby Seymour is happy to discuss the options for adding additional safety features to your race cars such as Kirkey's bolt on head rests, shoulder restraints and head/neck protection devices.

Our next race is at Seekonk Speedway on July 26th and then the race after that is at Waterford on August 5th.

We hope to have a great turnout at Seekonk and Waterford. Please encourage members who you are speaking with to get out to the track – every car counts!

See you soon!

Best regards,

Patty and the NEMA Board
Payne on the Mend After
NEMA Crash at Stafford
Comeback Certain But Not the Date
Manchester, CT (July 17, 2006): Joey Payne is recuperating at his home in Fairlawn, NJ after a devastating wreck at Stafford Motor Speedway on Tuesday, July 11, 2006 in the Northeastern Midget Association feature during Xtreme Tuesday presented by CARQUEST. The veteran racer sustained a severe concussion and injuries to his arms and legs when the rear axel sheared off his racer sending him careening into the outside wall.

"I'm doing okay," said Payne on Monday. "My knee and shoulder hurt quite a bit. My knee is really swollen and my shoulder is severely bruised. But my head is better, that is the good thing. It was a hard shot for sure."

A "hard shot" might be the understatement of the season. It is believed that Payne was traveling at speeds in excess of 110 miles per hour in the open-cockpit Midget when the crash occurred. During the impact both Payne's head and shoulder made contact with the outside retaining wall.

Payne was transported to Johnson Medical Center and then airlifted to Hartford (CT) Hospital, where he spent the night. He remembers little about the accident.

"I knew something broke and the next thing I remember was bang… I think the bang was my helmet hitting the wall."

His helmet is broken in two places. Payne, who owns a Safety Solution R-3 head restraint, admittedly in poor judgment, was not wearing it at the time of the accident.

"When I do come back, I will surely make some changes to my safety equipment. I will definitely be wearing my Safety Solution R-3 from now on. It is a great device and I should have been wearing it. I will have it on next time I race and every time after that," added Payne wisely.

All other safety precautions were in place.

"Everything did what it was supposed to do," continued Payne of his equipment. "I have to thank Gene and Marilyn Angelillo for spending their money to keep me safe in their racecar. No other car in NEMA has a Joie of Seating seat. It is the Cadillac of seats. It saved my life."

Unfortunately for Payne and his owners, the Angelillo's the car is a total loss.

"I went to see it (the car) the other day," said Payne, "I walked in and said 'Wow, I can't believe I survived this'."

Despite the severity of the incident, Joey Payne will be back behind the wheel as soon as possible.

"I am not giving up," said the diehard racer. "It would take a lot more than that to make me want to stop racing. Racing is my life. I have been doing it my whole life. I don't want to go out like that. To go out like that just would not be right."

"I will be back as soon as Gene gets me a new car," added Payne with a sense of determination.

The time frame for the team's return is uncertain. A brand new car will have to be procured.

"All the good parts that are left from the car fit into a box the size of an oil case," added Payne. "Everything in the car is destroyed."

The next event for the Northeastern Midget Association is scheduled for Wednesday, July 26, at Seekonk Speedway in Seekonk, MA.

"Unless a miracle happens we will miss Seekonk," said a dejected Payne.

It will be the first time in many years that a Gene Angelillo racer will not be in the field for a NEMA Midget event.

The silver lining in the entire incident is the outpouring of support that Payne and his family have received.

"The racing community is a family," said Payne. "I am glad to be part of a family that cares so much about everyone. Everybody from NEMA has called…My phone is still ringing."

"The track crew at Stafford was phenomenal," said Payne full of gratitude. "Everyone was amazing that night-from the fire department to the EMTs to the MedEvac team, just everyone. It is strange to be in that position and have so many people care so much."

Everyone in the racing community is wishing Joey Payne a speedy recovery and the Dumo's Desire Team a quick return to competition. Cards of well wishes can reach Joey Payne at 68 Pomona Ave., Fairlawn, NJ 07410.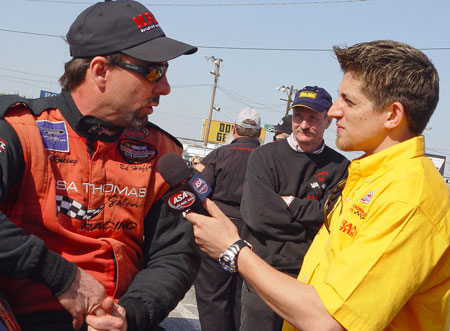 NEMA's Pernesiglio (the other one!) Making Strides Down South
Former NEMA driver, turned announcer Derek Pernesiglio has been making big strides in the world of motor sports broadcasting. This year he's pit reporting for selected ASA Late Model Challenge Series events on the Men's Channel and iDrive TV. "This is an incredible opportunity for me, explained Pernesiglio. "I left the Northeast in 2000 for a job in motor sports and it's been quite a ride! I have to thank Rick Benjamin, Joe Ligon and the folks at Visioncast Inc. for a marvelous opportunity to pit report in selected ASA Late Model Challenge Series events this year." The ASA Late Model Challenge Series has 13 televised events on the Men's Channel and iDrive TV beginning in September of this year. Check your local cable provider for times and air dates.

Pernesiglio is the son of legendary open-wheel car owner "Mazda" Pete Pernesiglio and younger brother of NEMA veteran driver Pete Pernesiglio. Derek's career has run the gamut in motor sports. He began racing go-karts at 15, moving up to the Pro-4 Modifieds and eventually driving the family ride until 1999. In 2000 Pernesiglio made a career change, moving to the announcers booth at the Seekonk and Thompson Speedway's.

It was early in 2001 when Derek got an opportunity to move down South to work for Wheeler Television on the long running "Raceday" show on the old TNN Network. That same year Pernesiglio moved over to NASCAR Images in their Corporate Motorsports department, becoming a producer of the NASCAR Banquet ceremony videos.
Pernesiglio still works for NASCAR Images but as the Associate Producer of the Trackside Live show that airs weekly on Speed Channel from each Nextel Cup Series venue.

It wasn't until earlier this year that Pernesiglio got a call from Joe Ligon, the producer for the ASA races on the Men's Channel and iDriveTV to help the broadcast crew on pit road for the first race of the ASA Late Model Challenge Series' season. "It's funny how it all happened, Joe and I worked together at NASCAR Images in the past and he knew I wanted to do some on-air work. Rick Benjamin and I had worked together in the booth once before for a NASCAR Whelen Modified Tour race at Martinsville. He and Joe talked, and then Joe called me on a Friday afternoon to work pit road at the Nashville Music City Motorplex the following evening. Their regular pit reporter fell ill and they needed a substitute. "Joe told me years earlier, this is how breaks happen, someone can't make a show and you're called upon at the last minute."

Pernesiglio got his second break this past weekend when the ASA Late Model Challenge Series made their first ever trip to the Oswego Speedway near the Canadian border. Oswego is a regular stop on the NEMA Midget series and the laps Pernesiglio had turned there in a midget over the years would benefit him on pit road. "I've got a bunch of laps in a midget there, said Pernesiglio, The drivers and I spoke before practice. We talked about which line to run, where the bumps are and how the sun can blind you going into turn one. It helped me earn the drivers respect at the end of the day." WalTom Racings Development driver Kelly Bires won the event before the ASA Late Model Challenge Series headed to Berlin, MI for another televised event on Wednesday.

So where does Derek Pernesiglio's television career go from here? Not even he knows. "Joe and the rest of the ASA folks like what I do on pit road and told me they'd like to see me on pit road for more broadcasts this year. Pernesiglio explained, How many times I get the opportunity to work with Joe, Rick Benjamin and Visioncast is uncertain, I never expected to even get on air once this year and I've got two out of three televised shows under my belt so far this season. If I don't get another chance this year I'd still be happy…once is better then never and twice is better than once."

The ASA Late Model Challenge Series races begin airing in September on the Men's Channel and iDriverTV. If you'd like to keep up with Derek Pernesiglio's progress, contact your local cable or Dish Network provider in your area.
USAC Race at Indianapolis Raceway Park
Santos Dominates in the Indy
"Night Before The 500" Feature

05-27-06 CLERMONT, Ind. – Bobby Santos scored a dominating victory Saturday in the "Night Before the 500" classic for the USAC National Midget Car Series at Indianapolis Raceway Park, as the Franklin, Mass. native won his second straight race.

Santos, this week in the No. 4 Beast/Ford owned by Janice East, finished more than four seconds ahead of Ron Gregory in the 61st edition of the race, capping a week in which he suffered problems with the car in two races but came away with victories twice.
USAC Race at Concord Motorsports Park
No Rivalry Here: Bobby Santos Wins Midget Race in Sister's Car
"MIDLAND, N.C. – Sibling love was taken to new heights Sunday at Concord Motorsports Park, one that could have made USAC history.

Moments after hitting the wall and suffering a broken rear end and break in the No. 4 Ford Racing Midget chassis, Bobby Santos III took the generous offer from older sister Erica to drive the family-owned for the feature.

Just a couple of hours later, he put the family machine in Victory Lane.

Fighting to gain the point after more than 30 in the Top 3, Bobby Santos overtook longtime leader Brad Loyet and gave himself his first career USAC National Midget Car Series victory after four years of trying."
FULL STORY AT USACRACING.COM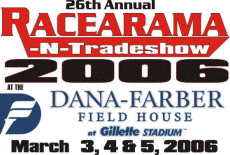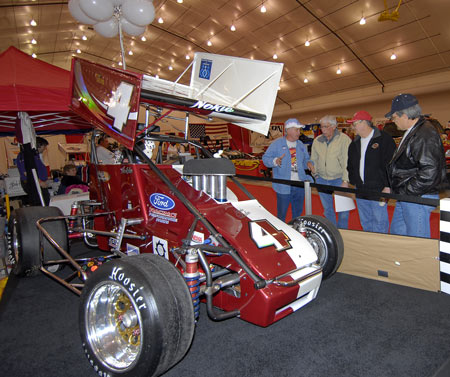 New Hopes for
NEMA's Pernesiglio
in 2006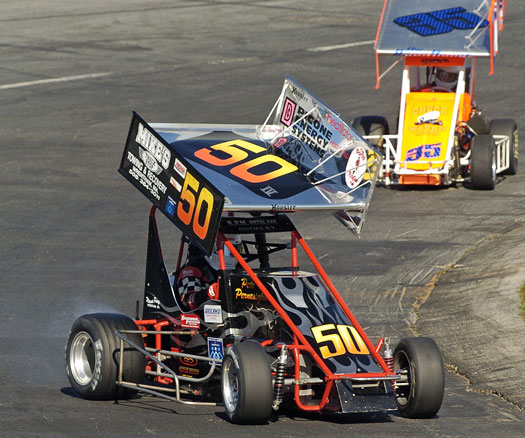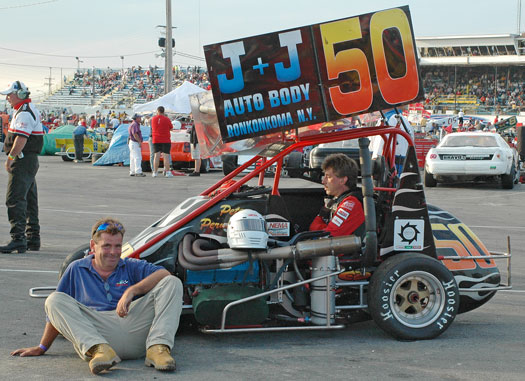 Manchester, CT: The 2006 season will mark the thirteenth year of active competition in the Northeastern Midget Association for Pete Pernesiglio of Lake Grove, NY. Three victories highlight a career that has been chock-full of top finishes. During 2005, the second-generation driver finished sixth in the final NEMA point standings recording 10 top-ten finishes in eleven starts, including podium finishes at Seekonk and Oswego Speedways.

At Seekonk in July, Pernesiglio led the most laps and looked poised to make his long-awaited return to victory lane, only to fall a few laps shy.

"It was probably at the moment when Ben (Seitz) passed me with only three laps to go to take the win at Seekonk," said Pernesiglio, "that I realized that I needed to go out and get a Beast chassis."

For the upcoming season, Pernesiglio has upgraded his equipment and signed on a major sponsor.

On December 2, the Long Islander arrived in Orlando, Florida to take delivery of his new racecar. It was a quick 48-hour round trip from New York to Florida and back.

"We rented a box truck in Florida. We drove it to the (Orlando Speedworld) and waited for the races to get over," said Pernesiglio. "The guys from Western Speed took out the motor, loaded the car in the truck and headed back to New York. It was about 2 AM when we left for home."

The new Beast chassis was purchased from owner Rick Gerhardt fresh off the racetrack. Billy Wease had just driven the Midget to a fifth-place finish in the USAC-sanctioned Mopar-PRI Sprint & Midget Classic held at Orlando Speedworld. It was a team car to former NEMA standout turned USAC competitor - Bobby Santos III.

"I have never been so nervous watching a race in my life," recalled Pernesiglio. "Now I know how my wife Angela feels watching the races."

Understandably, Angela, Pete's wife of four years, gets nervous watching her husband race each week. Although the active member of NEMA has little time to worry, she helps operate the Club's transponder system while selling 50/50 raffle tickets. The racing enthusiast, however, does save time to tend to the needs of her race team.

"She pretty much takes care of all of us," said Pernesiglio with obvious pride. "She makes sure that we have everything we need before, during, and after the races."

Angela will likely watch her husband drive his new car back to victory lane in 2006. With a proven driver in proven equipment, Pernesiglio will undoubtedly be among NEMA's top guns.

"My goal is to win as many races as I can," continued Pernesiglio. "If I cannot win I want to stay in the top-three. The championship is my ultimate goal. If I run consistently every week, the points will fall into place."

Additional financial support for 2006 will go along way in helping Pernesiglio reach his goals. Sponsorship has been secured from two new major companies for the upcoming season. The Long Island based race team has joined forces with Premier Utility Locating-a division of Hawkeye Construction. To learn more about the services provided log on to www.premierlocatingllc.com.

Pernesiglio debuted his new ride at the Motorsports 2006 Show in Fort Washington, PA last month in the exhibit of new sponsor RMP Powertrain Solutions.

"RMP Powertrain Solutions is a distributor of remanufactured engines and transmissions for all makes and models that services car dealerships, fleets, aftermarket retailers, jobbers and installers throughout the United States. The aftermarket product offering includes gas engines, automatic transmissions, diesel engines, transfer cases and related component parts."

Pernesiglio joins members of the RMP Motorsports team including Late Model Stock competitors Chad Harris from Old Dominion Speedway and Tony Adams of Selinsgrove Speedway, New Egypt Speedway Sportsman Modified competitor Gary Butler, and James Erdbrink, Jr. from Bridgeport Speedway. RMP Powertrain Solutions is an active sponsor at both Bridgeport and Old Dominion Speedways. They have also been instrumental in the implementation of the crate motor for the Bridgeport's 358 Modified division. To learn more about RMP Powertrain Solutions log on to www.powertrainsolutions.com.

Paul J. Parker & Sons Excavating & Landscaping of Attleboro, MA has signed on as an associate sponsor as well for the 2006 season. Remaining on board from last year are J&J Auto Body-Bohemia, NY and RPM Metal Fabrication also of Bohemia.

" I have a new car, new sponsors, and new hopes for next season," said Pernesiglio with unbridled optimism.

In 2006, the sky is the limit for Pete Pernesiglio and his race team.

It all begins on April 1 & 2, 2006 when the Northeastern Midget Association officially kicks of the 2006 season with the Budweiser Nationals at the Waterford Speedbowl.


Jan. 28, 2006 at White's of Westport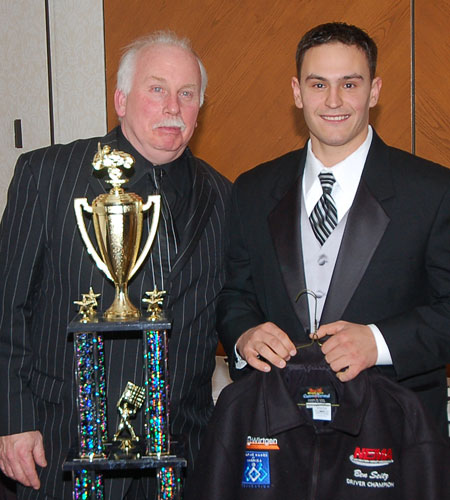 2005 Driver Champion Ben Seitz with NEMA President Mike Scrivani
Seitz and Angelillo Honored
at NEMA Banquet
Westport, MA: The annual NEMA banquet to honor champions Ben Seitz of Monument Beach, MA and Gene Angelillo of Waterbury, CT was held on Saturday night at the beautiful White's of Westport. The fun-filled event that featured award presentations, an auction, and a surprise birthday celebration for long-time competitor Nokie Fornoro, mirrored the atmosphere that surrounds the Northeastern Midget Association. The Club continues to demonstrate an ever-present camaraderie between the competitors while maintaining the integrity of the time-honored traditions of Midget racing.

Full Story & Photo Gallery HERE
NEWS FROM ALEX SHLATZ - NEMA #22
SUSIE NEWTON ACCEPTED MY PROPOSAL OF MARRIAGE TO HER ON CHRISTMAS EVE. WE ARE VERY, VERY HAPPY TOGETHER. WHILE NO DATE HAS BEEN SET, WE WILL BE LEAVING FOR FLORIDA TO THE NEW HOME WE ARE BUILDING AT MY RETIREMENT DATE OF MAY 30,2006.
WE LOOK FORWARD TO SEEING EVERYONE IN JANUARY. TAKE CARE - ALEX