2013 NEMA NEWS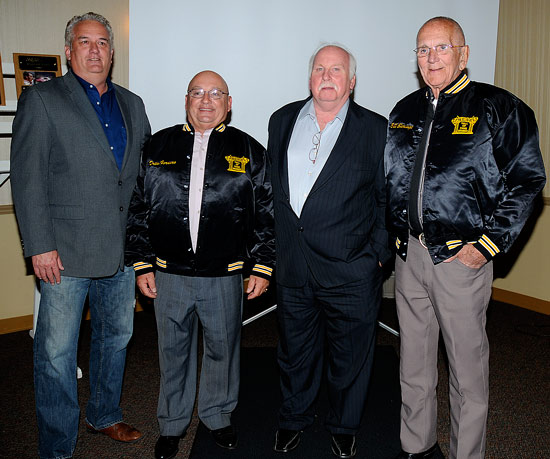 Romano, Monahan Induct
Eldridge, Fornoro into Hall
Two of the Northeastern Midget Association's greatest chroniclers – Chris Romano and Dick Monahan – inducted two NEMA greats, nine-time champion Drew Fornoro and three-time king Billy Eldridge, into the New England Auto Racing Hall of Fame Sunday Nov. 10.

Romano, Monahan to Induct
Eldridge, Fornoro into Hall
Two of the Northeastern Midget Association's greatest chroniclers – Chris Romano and Dick Monahan – will induct two NEMA greats, nine-time champion Drew Fornoro and three-time king Billy Eldridge, into the New England Auto Racing Hall of Fame Sunday Nov. 10 at the Lodge at Manelleys located at 65 Rye Street in South Windsor, CT.

In addition to the presidency, Monahan, who will induct Eldridge, has been NEMA's public relations director, announcer, yearbook editor, statistics compiler and overall trouble solver and remains one of its top historians.

Romano will induct his long-time friend Fornoro. A key contributor to the now lamented Trackside Magazine, Romano has and continues to serve the sport with pen, microphone and now camera. He is one of a few non competitors to have won NEMA's coveted Johnny Thomson Award.

Originally from Chelmsford, MA, Eldridge was the Northeastern Midget Association's first champion (1953) and, some 40 years after retiring, is sixth on the clubs' all-time win list with 32. Driving for the likes of Gibby Parmenter, Mike Scrivani, Bob Bahre and Rollie Lindblad, Eldridge, who began in the post World War II days, captured four NEMA championships.

Fornoro, who joins his father Nick in the Hall, holds Northeastern Midget Association records with 85 victories and nine championships, most of the former and all of the latter with owner Gene Angelillo. Born in Danbury, Fornoro won at least one NEMA feature in 21 different seasons, grabbing checkereds at over 20 different tracks.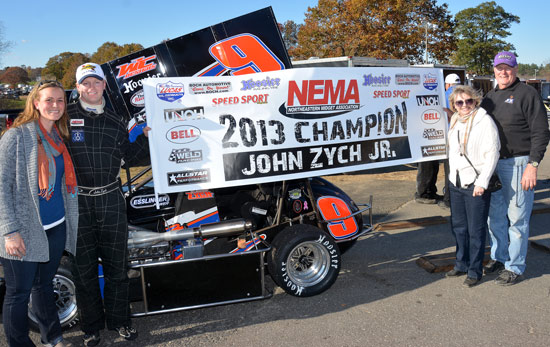 NEMA Champ Zych Always Knew
Where He Stood
Northeastern Midget Association driver champion John Zych Jr. admits he looked at the standings. "I always had a pretty good idea where we stood," he says. "I knew we had a shot at it and that made me drive harder." John and his dad, the owner champion, showed up expecting to win.

They needed a victory at the season-ending World Series at Thompson. They went into the race five points behind two-time defending champion Randy Cabral. He actually battled Cabral for much of the 25 lapper before claiming his fifth victory.

Ironically, the Zychs, both Mendon, Ma residents, won with a Drinan chassis purchased from the Cabral's owner Bertrand Racing two years ago.
It was hardly an inspiring start, a broken motor at Waterford Speedbowl actually resulting in a "Did Not Start." But there was a month until the second race, time for the Esslinger motor to be shipped to California and back. He was third at Seekonk and a winner at Star Speedway. "We worked for that win," Junior says. "We didn't start on the front row. We passed some cars early and we beat some good guys. When you do that, you get some confidence."

Overcoming a "downer" at Monadnock (spinning while leading to avoid a lapped car), he won at Stafford and, four races later, conquered New York's Airborne Speedway. "While I can't point to a definite time when I was totally comfortable, I did think three wins at the halfway point in the season was a really good place to be," he says.

He won again at Riverside Speedway in Groveton, NH but could not get away from Cabral whose win at Lee put Zych in second heading into Thompson. He says he appreciates winning the title under those challenging circumstances. Cabral and car owner Tim Bertrand have both been very helpful to the Zych since they came to NEMA in 2007 after a couple of Mini Sprint campaigns.
"This year we figured more things out for ourselves," Zych claims, but quickly acknowledges the help of Midget maestros Bobby Santos III and Lou Cicconi at the World Series.

Competition has always been part of Zych's existence, the father of two daughters with wife Liz, was a high school basketball sensation who went on to play at LeMoyne College in New York. John Sr. has the same resume. Also like his dad was, Junior is employed by the Hershey Corporation.

Zych's first NEMA win came in the 2012 opener at Waterford and five races in, he was the point leader. He was, however, based in Louisville, KY then and business commitments and rain-outs got in the way. He found motivation in that. "Back in New England, I looked at this year as an opportunity," he says. "Taking in account 2012, I thought this could be our year."

They will be back in 2014.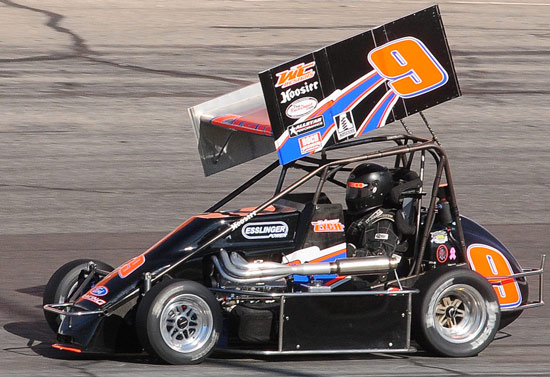 NEMA Season Filled
with Historic Victories
Already rich in history, the Northeastern Midget Association added another chapter in 2013. Led by champion John Zych Jr.'s five triumphs, there were nine different winners, some with historical significance.

Zych's fifth win at the Thompson's World Series gave him and his dad the drivers and owners championship respectively. It was the only way he could have accomplished it because Randy Cabral's second win of the season (and the 37th of his career) came at Lee USA Speedway's Oktoberfest. It gave Cabral, a four-time champ, a five-point lead heading into the World Series.

A Hollywood script writer couldn't have done it better. Zych's dramatic win added a fitting chapter to a season that also saw Todd Bertrand (2), Seth Carlson, Modified star Doug Coby, Anthony Marvuglio, veterans Bobby Santos and Bobby Santos III and Bethany Stoehr visit victory lane.

Zych and the Cabral/Bertrand Motorsports 47 combination waged an enticing points war over the second half of the season. Cabral had a 12-9 edge in top-five finishes including the last seven races. He was third in four of Zych's wins and fifth in the other.

Both Bertrand wins came at Waterford Speedbowl where Marvuglio, in Tim Bertrand's ill-fated No. 74, scored an emotional win in the event that memorialized his brother Shane Hammond. And, it was at Waterford where Bethany Stoehr became only the second female winner in club history (Erica Santos was the first) but only after a race-long tussle with her uncle Russ Stoehr.

Coby, also in the Bertrand 74, joined a very select group of primarily Modified drivers (Gene Bergin, Ted Christopher) with a NEMA win at Seekonk's Boston Louie Memorial. A couple of weeks later he returned in the same car and finished a few inches behind Cabral, turning a sizzling 11.149 lap en route. With Marvuglio aboard, the 74 was destroyed at New Hampshire's Riverside Speedway.

Carlson tamed Oswego Speedway and in impressive style. Payne won for Ed Breault at Monandock, his 20th career NEMA victory which put him in a tie for 20th on the all-time win list with Johnny Coy and Jeff Horn. Santos moved up into a three way tie for 14th with Walter Galen and Ben Seitz when he drove the Cantor car to his 14th career win at Monadnock.

Two Zych's win came at tracks NEMA hadn't visited in a number of years – New York's Airborne Speedway and New Hampshire's Riverside Speedway. He also prevailed at Star and Stafford Speedways before the final win.

It was the 14th straight season Cabral had at least one victory. Only the legendary Dave Humphrey's 16 is better.

Ian Cumens, who scored three seconds in his first full season in NEMA, was third in points followed by Todd Bertrand and Russ Stoehr.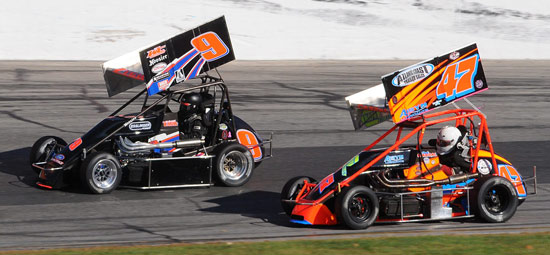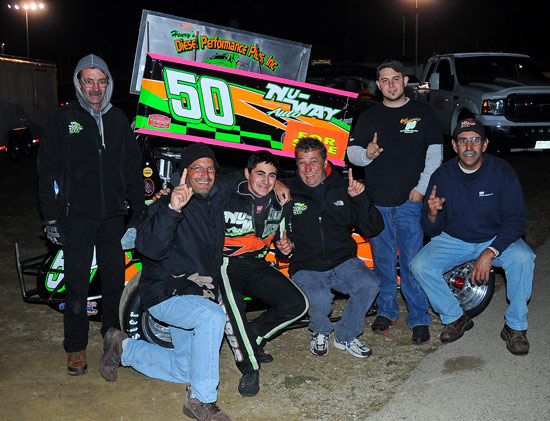 NEMA Lites Champion Carl Medeiros Jr.
Early in the season finale at Lee USA Speedway's Oktoberfest, Carl Medeiros Jr. hardly looked like somebody with the Northeastern Midget Association Lites Division championship all but won. He appeared to be a little aggressive.

"I was running in a tight bunch with a very slippery outside lane," says Medeiros. "I was trying to get to third because that would put me on the inside row on a restart." Make no mistake, the Fall River, MA teenager had his eyes on the bigger prize.

Westport, MA resident Medeiros, 17, wound up fourth, more than enough to claim the first "count-all-the-races" championship with a 27-point bulge on Danny Cugini. He had three victories and seven podiums among 10 top-fives.

Cugini did wind up with the owner championship besting Medeiros' dad by eight points.
Only twice through the season did Medeiros, a senior at Diman Regional Vocational in Fall River, enter a race without the point lead. "Actually having the point lead helps," he says. "You focus on who you have to beat, on who is behind and who is in front of you. It involves doing some math in your head."

It is testimony to how badly Medeiros, who missed one show "for reasons I won't talk about," wanted the championship. Medeiros, who won his first Lites race a week-and-a-half before his 16th birthday, came so close to winning last year's Hoosier Challenge.

"We lost on other people's decisions, on stuff we couldn't control," says Medeiros who came to the Lites with a impressive Go Kart resume.

A select number of races made up the Hoosier Challenge. The season-ending Oktoberfest at Lee USA Speedway, which included the regularly scheduled feature and a rain out, was added to the number. Going in with a slim lead, Medeiros fell victim to the two-spin rule in the first race and got wrecked in the second. He wound up fourth in the standings.
Still, he was the leader in wins with four including three straight. Part of the latter statistic was two in one day at Lee.

Second in this season's opener at Waterford, Medeiros assumed the point lead with a victory in the second race at Star. When Medeiros, who also won at Lee and again at Star, was not leading in points, he was not far behind.

He was out of the top 10 twice but one of those proved to be vital to the championship. After "basically destroying the car" at Monadnock on June 23, Jennifer Scrivani approached him about driving the No. 21. "Jen said 'go talk to Joey Payne' who had qualified the car. Joey said 'yes.'" After some changes to the seat and belts and to the suspension, Medeiros finished 12th picking up what proved to be a vital 30 points.

He was 13th at Waterford on Aug. 10 but then finished with four top fours in the final six races. He also had a sixth and didn't compete in one.

Medeiros, who will run some TQ action this winter, will move on to the Modifieds next year. One of things he'll miss is racing with Cugini. "Most of the year we were starting side-by-side," he said. "We are good friends."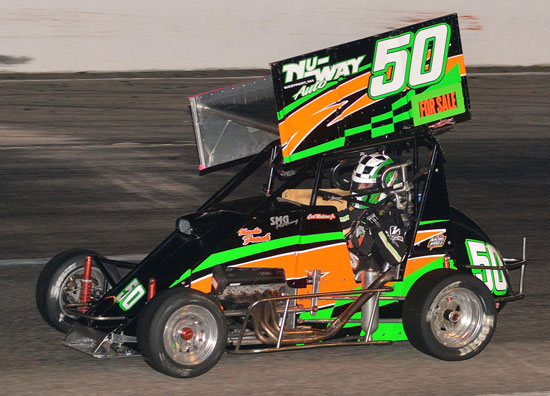 11 Different Winners For NEMA Lites
It was the busiest and the most competitive season yet for the six-year old Northeastern Midget Association's Lites Division. There were 11 different winners in 17 events with point battles that went down to the final checkered.

Three-time feature winner Carl Medeiros Jr., 17, is the first count-all-the races champion, finishing with a 27- point edge on Danny Cugini. The Cugini No. 51 is, however, the top car, a scant eight points better than the Medeiros 50.

The top-15 owners and drivers will all be recognized at the NEMA Awards Banquet Saturday night, Nov. 16 at White's of Westport, in Westport, MA. |

The "winningest" car was the Bill Stergios 11, brothers P.J. and Jake Stergios driving it to a combined four checkereds and a third in the final standings. P.J. Stergios and Medeiros share the "winningest" driver laurels.

Ian Clemens and Avery Stoehr, with two apiece, were also multiple winners. Each had a "big track" win as well, Seymour family driver Clemens prevailing at Airborne while third generation performer Stoehr, was successful at Stafford Speedway. Stoehr is slated to join cousin Bethany Stoehr in NEMA's premier division next season.|

The "biggest" big plum, belongs to Oswego Speedway winner Richie Morocco. Others with a single win, in addition to Jake Stergios, are Cugini, who won the season finale at Lee, Andy Barrows, Scott Bigelow, Randy Cabral and Kenny Johnson.

Stoehr and Johnson, both teenagers, finished third and fourth in the final point standings. Twenty-one year old Cugini, part of a two-car team that also included sister Megan, is the oldest among the top four, testimony to the division serving its intended purpose.
Consistent all year, Logan Rayvals finished fifth in driver points.

Medeiros, Cugini and Johnson all had 10 top-five finishes, Medeiros' three victories making the difference in the final figuring.

The Stoehr 15a and the Johnson 46 were fourth and fifth in the final owner standings.




Unlike last year when Medeiros won three straight, the Lites had no back-to-back winners this year.


Last year's Hoosier Tire Challenge winner Ian Cumens wound up 12, collecting two seconds and a third to go with the two victories.


Anthony Payne, son of NEMA standout Joey Payne, made his midget debut with eight starts in the Scrivani 21, sixth his best result.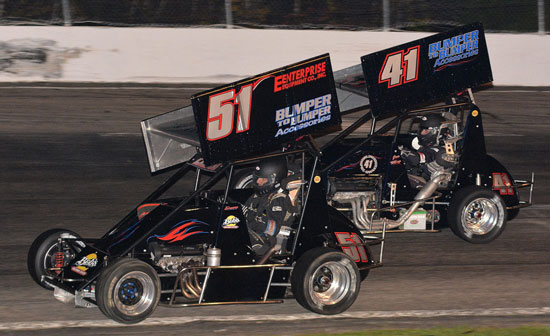 OCTOBER 13th NEMA/LEE
CANCER WALK A SUCCESS
Approximately forty early raisers braved chilly temperatures and sunny skies to walk the Lee Speedway on Oct. 13, to benefit the N.H. chapter of the American Cancer Society. Race fans, crew members, drivers, officials and even boy scouts participated.

The event organizers, a team of Lee and NEMA members, had less then two weeks to "get the word out", and solicit donations. NEMA team leader, Tina Mederios, worked tirelessly to procure team tee shirts and stickers to sell.

Selected walkers were later given the opportunity to join in on victory lane celebrations and receive pink and black checkered flags, autographed by the race winners.

Bertrand Motorsports


40th Win
Todd Bertrand's victory in the Angelillo Memorial at Waterford Speedbowl Saturday night, August 10th, marked the 40th NEMA victory for Bertrand Motorsports. The team, in fact, had three of the top five finishes with Randy Cabral second and Anthony Marvuglio, in the 74, fourth.

Cabral acknowledged the situation: "It's kind of different being in second place and rooting for the car in the lead."

"This is the best night of racing I think out of the whole year because you've got so many open wheel divisions that all put good rubber down on the track," said Bertrand after his third straight Angelillo Memorial victory. In addition to NEMA and the NEMA Lites, the Supermodifieds and three different Modified divisions were on hand.

Still there were only three 12 seconds laps including Todd's feature-best 12.794 (105.518). Ian Cumens (12.939 – 104.336 mph) and Anthony Marvuglio (12.829 – 105.230 mph) did it en route to heat victories.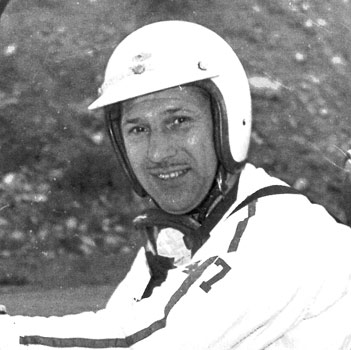 LOU FRAY

Lou Fray, who shared the Northeastern Midget Association championship with Dave Humphrey in 1970, passed away Wednesday (Oct. 2) at Bridgeport Hospital. He was 88.

A life-long Shelton, CT resident, Fray spent almost six decades in Midget racing competing with, in addition to NEMA, the ARA, ARDC, NASCAR and SMRC, winning three straight titles with the latter.

Driving for, among others, John McCarthy, Bob Pascale and Paul Young, Fray scored NEMA victories at Albany-Saratoga, Catamount, Oxford Plains, Quebec City, Stafford and Westboro and was consistently among the top point finishers.

In more recent years, he was a leader in the Atlantic Coast
Old Timers.

-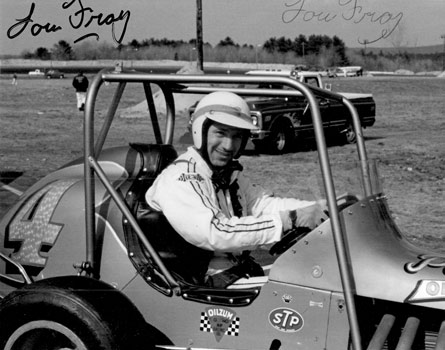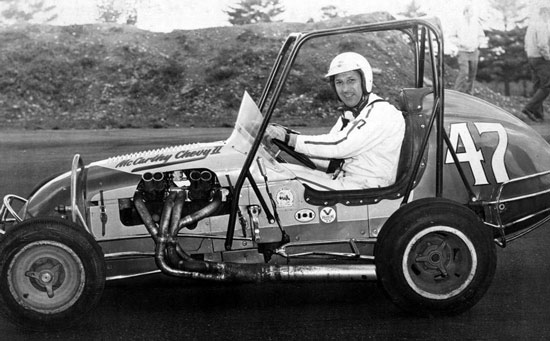 From Pete Zanardi
The Northeastern Midget Association heads into the "stretch run" beginning with Waterford Speedbowl's Finale Oct. 5-6.
Per usual, there is a torrid point battle highlighting the month of October – John Zych Jr. and Randy Cabral the combatants.
The stretch run includes traditional stops for NEMA – the Ocktoberfest at Lee USA Speedway on Oct. 12-13 and Thompson Speedway's World Series on Oct. 19-20.

The list of NEMA championships is an impressive group. We've lined up some portraits of past champions, hoping to rekindle some memories of stretch runs in the past.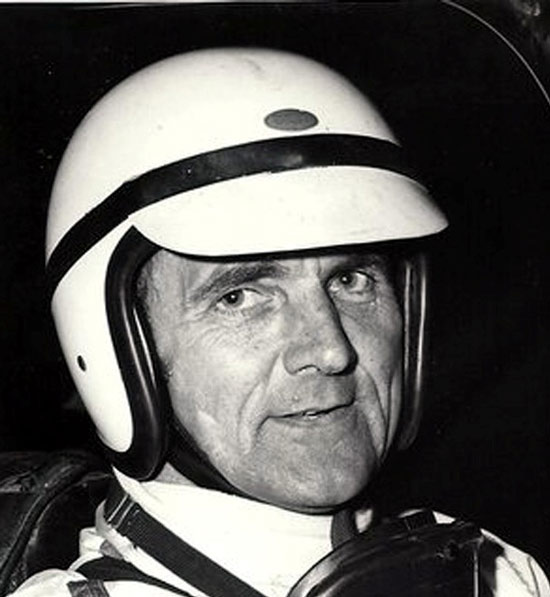 Bill Eldrdige dominated the 1950s with four crowns.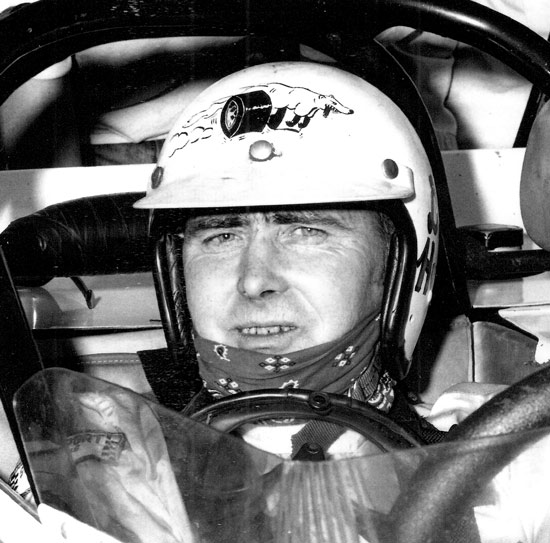 Dave Humphrey has six championships.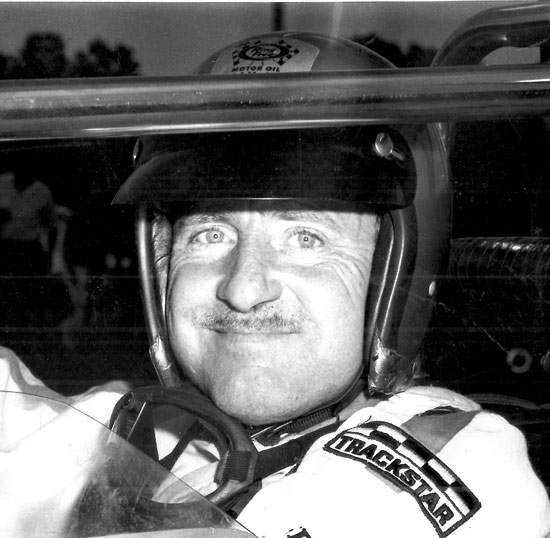 Johnny Mann was tops in 1972 and '74.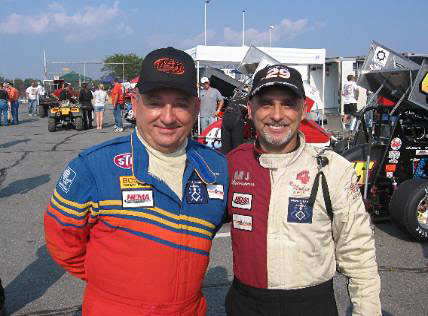 Drew Fornoro had nine championships while Nokie owns one.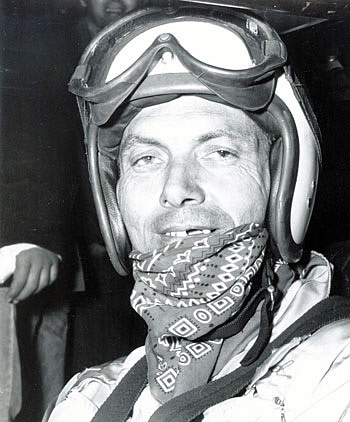 Armond Holley was the 1976 champ.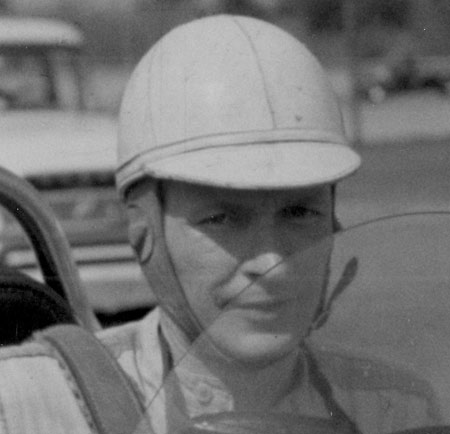 Dick Brown ruled in 1960 and '61.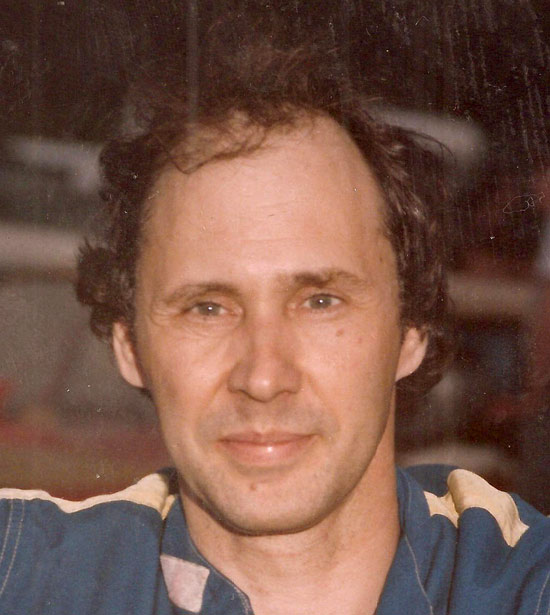 Lee Smith has two crowns: 1980 and '82.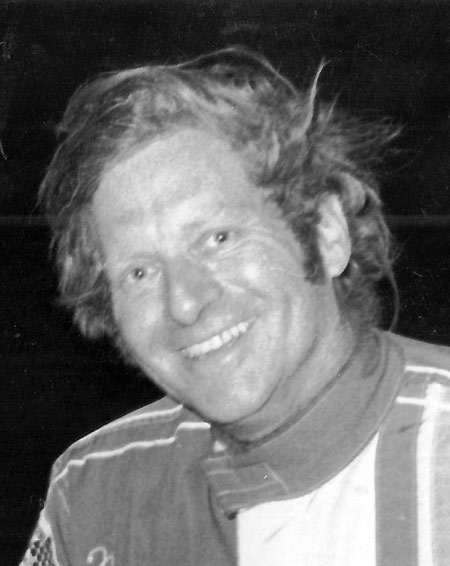 Butch Walsh was the 1973 champion.

Gordon Galen Bumpus, aged 81 years, of Taunton, formerly of Lakeville, died at Morton Hospital, Taunton, Friday, Aug. 30, 2013. He was born in Brockton, son of the late Galen L. and Viola P. (Bowles) Bumpus.

He served in the United States Army, during the Korean War. Gordon was a retired engineer, having worked for the Massachusetts D.P.W. Highway and Bridge Department. He was a member of the Union Congregational Church, Taunton. He was an avid auto race fan; especially open wheel, sprint, and midget racing.

Survivors include two sons, Howard G. Bumpus and Jeffrey W. Bumpus, both of Lakeville; a daughter, Sherri L. and her husband Mark S. Larson of Lakeville; four grandchildren, Kelsey Larson, Tyler Larson, Shawn Bumpus and Mitchell Bumpus. He was the former husband of Evelyn C. (Martins) Bumpus of Lakeville.

Visiting hours will be held in the Ashley Funeral Home, 35 Oak St., Middleboro, on Tuesday, Sept. 3, from 5 - 8 p.m.

A prayer service will be held on Wednesday, Sept. 4, at 10 a.m. in the funeral home. Burial will follow at St. Marys Cemetery, Middleboro.

Donations in his memory, made to charity of ones choice, would be appreciated.


.

From Pete Zanardi
We have come on classic portraits of some of the outstanding drivers in NEMA's 60-plus year history. NEMA, making ready for a visit to Oswego Speedway on Saturday night, Sept. 14, is heading into the home stretch. Per usual, there is a great battle going on for the driver championship, current point leader John Zych Jr. and four-time king Randy Cabral the combatants. It is another chapter in a magnificent club history that features drivers like those pictured here. The drivers pictured here were all NEMA winners.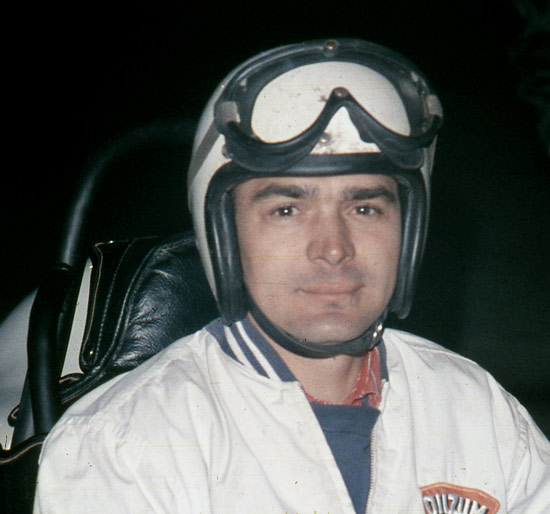 Joe Csiki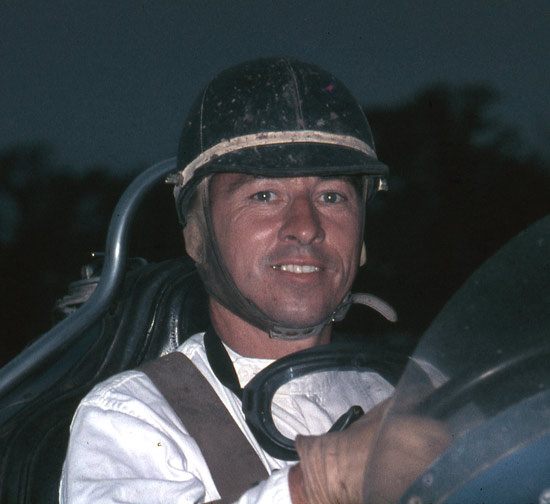 Johnny Kay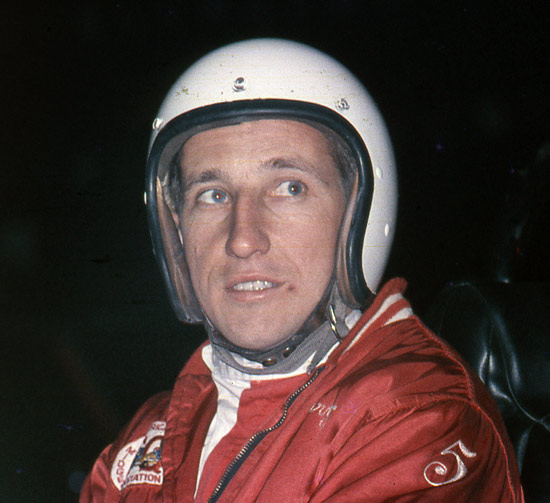 Jerry Wall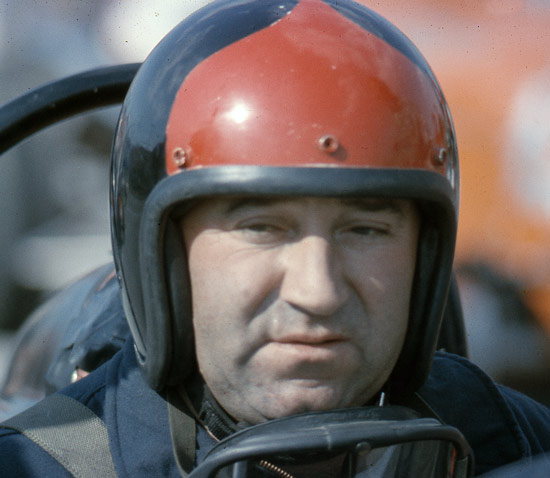 Jerry Russo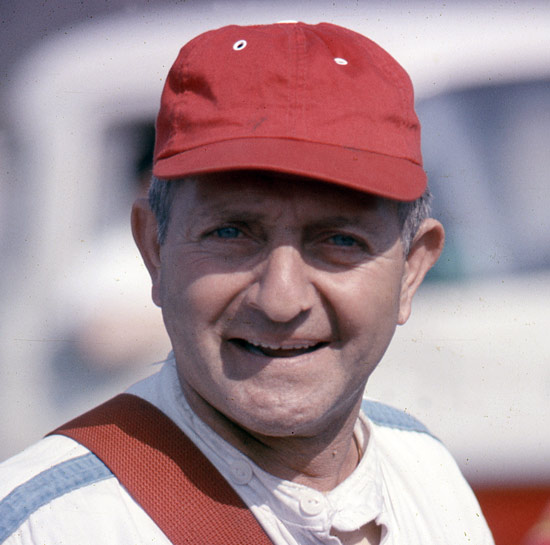 Tony Romit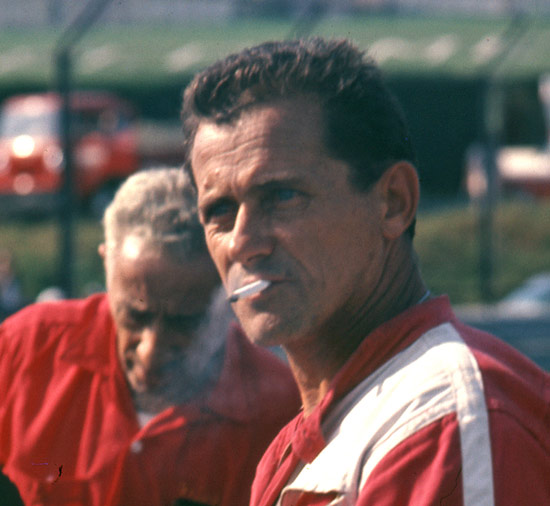 Johnny Coy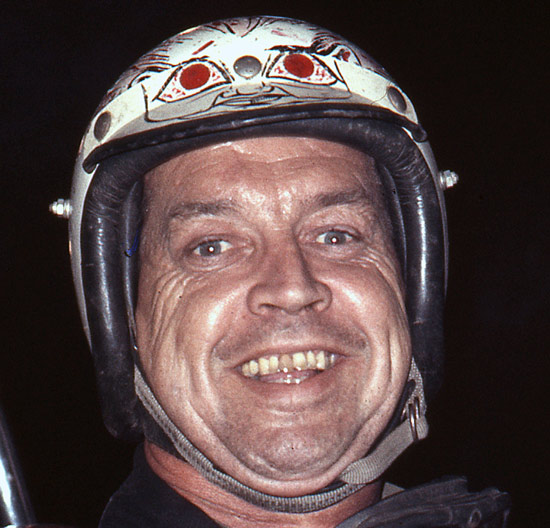 Bert Brooks
NEMA HISTORY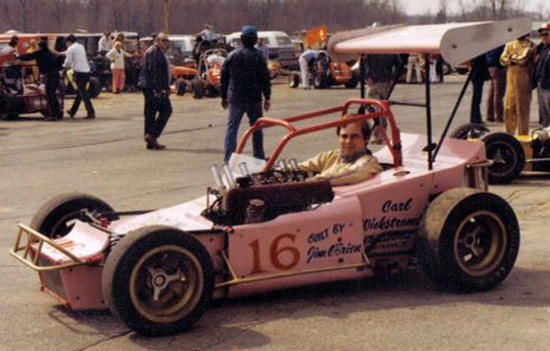 Doug Cleveland - Original Pink Panther - 1976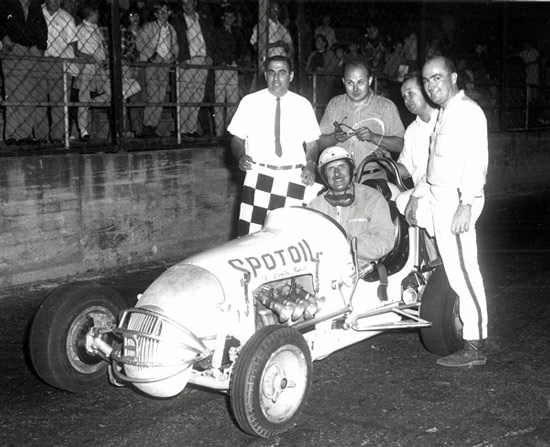 Dutch Schaefer in Victory Lane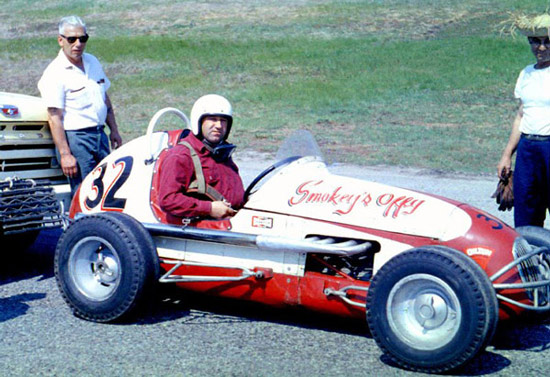 Jerry Russo - Secundo Offy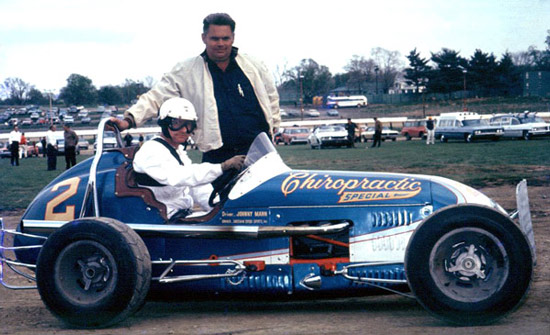 Johnny Mann with Mike Sheehan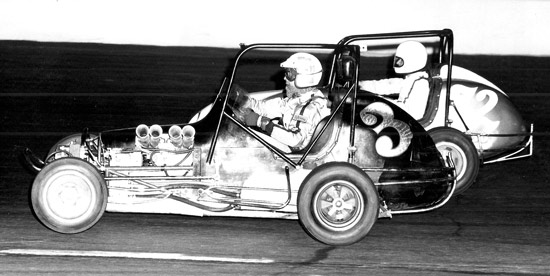 Munson Geo (#3) & Lee Smith (#72) - Stafford (Miour Photo)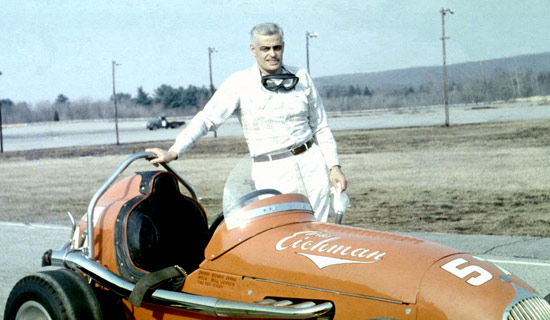 Ronnie Evans - Eichman #57 - 1962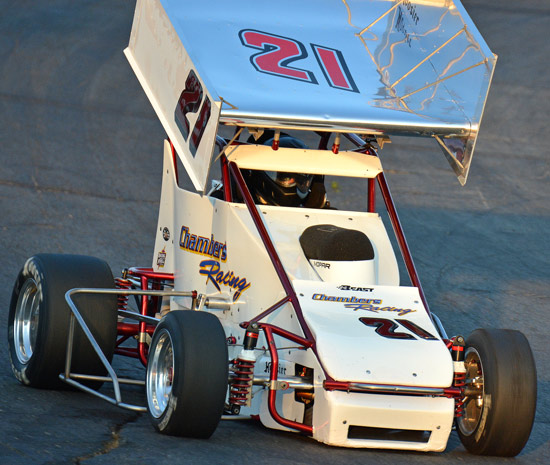 Chambers Among NEMA Threats
Brockton, MA – Jim Chambers, a Northeastern Midget Association rookie, is loving it. After six races, including back-to-back top fives, only one question remains for the Atkinson, NH resident : "What took us so long to join NEMA?"

Fifth at Seekonk Speedway on July 17, Chambers and the family MOPAR-powered Beast chassis head for Waterford Speedbowl's Shane Hammond Memorial Saturday night. The NEMA Lites are on the schedule as well.

"It's kind of surprising," says Chambers, 25, a racer for almost 20 years. While "it's been good and it's been fun," it's also been a struggle figuring out set ups and battling mechanical woes. Prior to this year's opener at Waterford, his only Midget experience was a fifth and second at last year's season-ending Lites events at Lee.

Chambers, who has driven 350 Supermodifieds and Pro Stocks (a two-year PASS regular), was confident he would adapt. He was supposed to share driving duties with brother Alan. The latter, however, has trouble getting up from North Carolina, meaning Jim is doing all the driving for his car-owner dad Michael.

Alan had six Lites starts last year, winning at Beech Ridge. Lites Rookie Kevin Hutchens is currently driving the car.

Right now, Chambers, an auto auctioneer like his dad, reports both the car, which was purchased from the Martino family, and the team "are working good. We got the handles; hopefully the mechanical issues are cured."

Pointing to help from Russ Stoehr – "he got us pointed in the direction we wanted to go" – Chambers was second to Bobby Santos (in the Cantor 7ny) at Lee. "Considering who won the race and who we beat, we kind of consider that a win," he says.

It was a sixth at Monadnock, however, that got Chambers among the leaders as far as handicapping goes. "We got up to the top five, had some electrical problems and then came back from 15 to sixth," Chambers says.

It is not lost on Chambers that 18 drivers have scored their first-ever NEMA win at Waterford. He broke in practice earlier this year at the 'Bowl but he returns with well-founded optimism. "It was my first time in a full midget and my first time at Waterford and by the third time out I was comfortable. I was only half a second off the leaders."

John Zych and Todd Bertrand, both among the current point leaders, are among the many who scored their first NEMA win at the Speedbowl.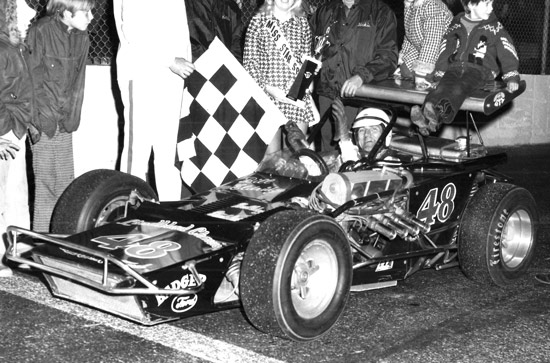 Bill Eldridge in Lindblad #48 at Star Speedway.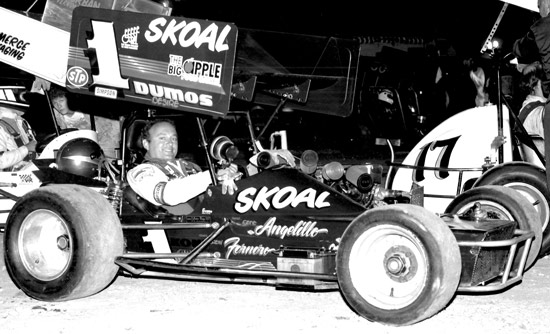 Drew Fornoro in Angelillo Badger at Star Speedway in 1989. MiourPhoto.
Hall of Fame Honors
For Eldridge, Fornoro
Ranking first and sixth on the Northeastern Midget Association's career win list, Drew Fornoro and Billy Eldridge are part of the New England Auto Racers Hall Fame Class of 2013. Fornoro and Eldridge will join six others being inducted at The Lodge at Maneeley's in South Windsor, CT Sunday, Nov. 10.

The New England Antique Racers website (near1.com) will have complete times and ticket prices in the near future.

Originally from Chelmsford, MA, Eldridge won NEMA's second-ever race at Waterford Speedbowl on May 31, 1953 en route to the club's first championship. He went on to win 32 features driving for the likes of Gibby Parmenter, Mike Scrivani, Bob Bahre and Rollie Lindblad and added three more championships.

Fornoro, who joins his father Nick in the Hall, won a record 85 NEMA victories and nine championships, most of the former and all of the latter with owner Gene Angelillo. Born in Danbury, Fornoro, now a New Jersey resident, won at least one NEMA feature in 21 different seasons, grabbing checkereds at over 20 different tracks.

Other NEMA competitors in the NEAR Hall of Fame are drivers Bert Brooks, Joe Csiki, Dave Humphreys, Johnny Kay, George Monsen, Al Pillion, Bill Randall and Hank Stevens and car owners Wen Kelley, John McCarthy, Mike Scrivani Sr., Louie Seymour and Ed Stone.

Joining Fornoro and Eldridge will be sports car standout Bob Sharp, oval track stars Bob Stefanik, Ralph Nason, Brian Ross and Stan Meserve and modified car owner Ronnie Berndt.
.


Former
ARDC & NEMA Midget Driver
Jerry Stover
Passes at 76

Gerald L. Stover of Spring Hill, FL, formerly of ­Brownstown and Albrightsville, PA, passed away at his home Sunday, June 16, 2013, a day before his 77th birthday.

He is best known in the world of Auto Racing as Jerry or Smokey Stover. He started with drag racing his favorite Triumph Motorcycle at the Maple Grove drag strip (top eliminator) and Lancaster Dragway. He then joined the Lanco Micro-Midget Racing Club and, in partnership with Bob "Shorty" Howe, built several micros and captured the 1964 open class championship. From there, he went on to race TQ midgets, full midgets and sprint cars. Some of his car owners were Leigh Earnshaw, Sr., Stan Bronowski, Joe DeVine, Bob Hanrahan and Henry Kramer. While driving the Mike Sheehan Sesco midget, he set a 50-lap speed record at Wall Stadium, Wall, NJ, which he still holds today, and debuted the first winged midget race car at Islip Speedway, Long Island, NY. He built his own Datsun­powered mini-stock before retiring from racing and raced with the AMSA club. Other clubs were ATQMRA, ARDC, UMRA, NEMA, URC and USAC. He competed at over 80 tracks in the Northeast, Mid-Atlantic and Southern states, always with his wife and children as traveling companions.

FULL STORY HERE
The Women of NEMA
By Bill Van Slyke
Part 2: "For Sale" - "A Message" - "Passion"


.



You've heard the ole cliché, "behind every good man, there's a great women". Similarly, "behind every good Auto Racing club, there's a great group of women." As the Northeastern Midget Assoc. enters it's 61st year, it does so on the shoulders of a number of dedicated hard working women. In 1953, NEMA's inaugural year, women had no shot of even getting into the pits; nowadays, they're calling the shots.

I recently had the opportunity to sit down for a candid conversation with a number of NEMA's dedicated females whose duties range from officials to sales person to one who loves to drive very fast.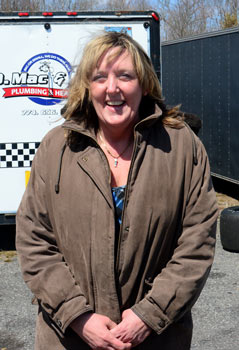 Cyndy finally said yes to the question, "you want to go to the races"? The question came from NEMA president Mike Scrivani back in 2008. Shortly after, the two were wed and Cyndy became part of a family with a long racing history. But,

Cyndy Scrivani

confesses that initially she really had no interest in racing, but that was then. Today, she is now fully entrenched in the club and her duties as merchandise salesperson, responsible for the purchasing and marketing of hundreds of caps, tees, decals, key chains, etc. Ever since 2010, the job has put this "blond with the never ending smile" one-on-one with the fans as the merchandise trailer is parked directly in the speedway's paddock area so she can easily wheel and deal with the fans. Her duties prior to NEMA sales, "provided all with plentiful food and drink", a task she still performs at the close of each race weekend. Over in the RV park, where the campfire is as tall as the stories being told, there is Cyndy, still providing that food and drink for all that attend. Similarly, at the annual NEMA picnic, Cyndy plays a major roll in the organization and set up of tents, serving tables, grills, coolers, menu,…..and when the evening closes down in the very early hours, there she is helping with the clean up. And even though she loves to escape occasionally to the Rhode Island beaches, the family atmosphere keeps her tied to NEMA. So in 2011, to show their appreciation for her dedication, the club presented Cyndy with the Marilyn Angelillo award; a very deserving honor.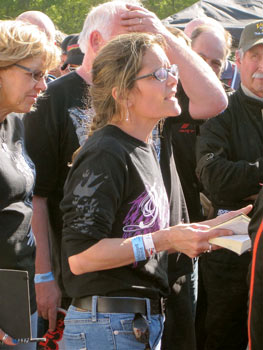 "I climbed up in the trailer and sat down. A message came, a clear message. I knew what it was and who it came from. So I got up, walked out of that trailer and went to work". To stand back at any NEMA event and watch

Tara Stoehr

perform her work is amazing. She'll start the evening at the Stoehr family hauler where daughters Bethany and Kathryn work side by side with mom in preparation of the two racers for Bethany and husband Greg. Then it's off to the drivers meeting where, as the only female Chaplain in the Racing for Jesus Ministries, she'll lead the group in prayer asking for safety for all in attendance and to remember a friend who may be down on his luck. Tara's racing life began in 1982, dating then go-cart racer turned stock car driver Greg, at Seekonk. She boasts that she has only missed one of Greg's races in all these years and is very proud of him as a driver and family man. "Greg has impeccable patients when teaching the girls about racing". When asked of any interests outside of racing, Tara explains of her family's love for outdoor activities such as hiking and the beach. Tara's response when asked about her best moment in racing, "there's a few, she says, like the time at Volusia County Speedway in Florida. Greg wins the feature in a old jalopy after an other car owner says he can't believe we drove all that way to drive such a sub-par racer. As I proudly walked to victory lane, and without saying a word, I made sure I made eye contact with that car owner." Another moment came when Bethany set fast time at Waterford in her ex-Mike Jarret midget; but the most memorable is when NEMA honored her with the "Woman Behind the Man" award in 2011. Truly, Tara is a hard worker as she continues to carry along that "message"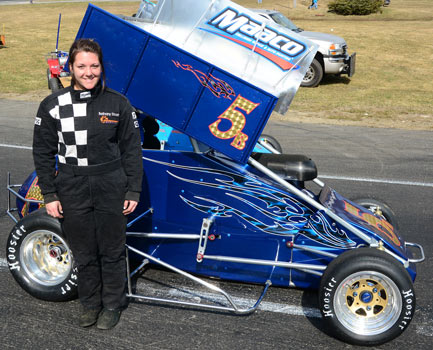 She posts on face book, "My dad sold my NEMA Lite car, so I'm free to drive your Lite, modified, super modified, SK, or late model." That's how

Bethany Stoehr

defines her "Passion" for racing, by wanting to drive anything. It all began in 2001 when dad Greg found the perfect go cart in a strange place, a flea market. That cart solidified the forth generation of Stoehr's to participate in auto racing starting with great grandfather Bill, than grandfather Paul and father Greg. While driving that cart, Bethany, along with sister Kathryn, would crew Greg's midget at NEMA events. They didn't just help the crew, they WERE the crew, performing it all; tires, fuel, gears, shocks, driving the push quad and learning all that dad had to teach. And when they were big enough to see over the steering wheel, they steered the car to the pits after a race. When asked what draws her interest in NEMA, this eighteen year old is quick to explain, "the great people and my friends" which she truly misses in the off season. And Bethany's off seasons are usually empty, but she fills her time as a convenient store clerk and singing with her sister…."singing is fun, but I'm not very good at it". And that's fine with us, as long a she sticks with what she is good at, following that "Passion".

We would be remiss without mentioning two NEMA angels that have left us,

Miss "Ellie" Seymour

and

Marilyn Angelillo

. Without ever having the opportunity to meet these ladies, one only has to inquire to any veteran NEMA member of the work and contributions to NEMA they made, and the stories will be free flowing and plentiful. From secretary to announcer to hauler driver the longevity, love and support they gave to this racing club is unmatched. So, with the memories of the past fresh in our minds, the Northeastern Midget Association looks ahead to a strong future with help and support from "The Women of NEMA".
The Women of NEMA

By Bill Van Slyke
Part 1: "The Traveler" - "Busy Bee" - "Shane" - "SOX Fan"



.


You've heard the ole cliché, "behind every good man, there's a great women". Similarly, "behind every good Auto Racing club, there's a great group of women." As the Northeastern Midget Assoc. enters it's 61st year, it does so on the shoulders of a number of dedicated hard working women. In 1953, NEMA's inaugural year, women had no shot of even getting into the pits; nowadays, they're calling the shots.

I recently had the opportunity to sit down for a candid conversation with a number of NEMA's dedicated females whose duties range from officials to sales person to one who loves to drive very fast.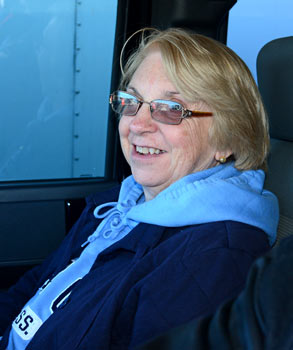 Lu Jarret

has been associated with NEMA since 2005 when husband Mike invested some sponsor money into NEMA, and eventually fielded a midget racer for Nokie Forono. Not one to just sit and spectate, Lu jumped in selling merchandise , running the 50/50, doing the line-up, whatever needed attention. The Jarret's tenure as car owners lasted a number of years until the lure of the sea took them away to their beach house, and a new RV took them everywhere else. In the wake of their life with NEMA are fond memories such as a special night at the 2007 awards banquet as Lu was the recipient of the Marilyn Angelillo Woman-Behind-the-Man award presented by Gene Angelillo himself; this was Lu's self proclaimed "best moment in racing". At your next chance meeting with Lu…ask her of her latest travels; the stories will be endless.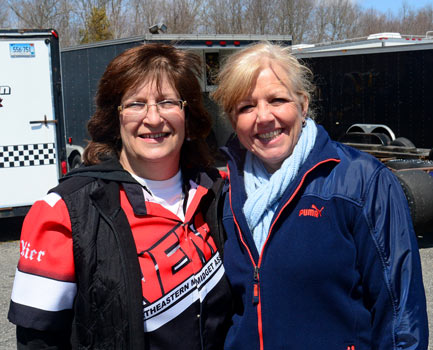 "I'd have my toes in the sand and a drink in my hand", is how

Linda Cleveland

describes her weekends if it weren't for her scoring and secretarial duties for NEMA. To catch up with this "busy-bee" at the track you'll be at the scoring table one minute, the press box the next, then off to the RV to construct the night's line-ups. Linda's racing timeline started in 1975 at Westboro Speedway where she was a late model fan and witnessed her first midget race, then onto 1993 when her NEMA scoring duties commenced , then her marriage to veteran NEMA driver Doug Cleveland in 1994 and the throng of Cleveland's that came along with him. (namely brothers-in-law Brian drives a midget, and Steve, a push truck operator). But this busy lifestyle with the racing club suites her just fine as the camaraderie among teams and closeness among families are attributes much to her liking. Linda can recall numerous pleasurable moments on that timeline but none measure up to the night she was honored with the "Woman behind Man" award a handful of years back, one moment in time she will always cherish.

"Giving back, I need to give back", are the words from the founder of the Shane Hammond Foundation, ( shanehammondfoundation.org ),
Deb Marvuglio, mother of the late driver. Deb formed the foundation in 2009 to meet the objective of supplying state of the art safety equipment to racers that would otherwise go without. This tireless ambassador of driver safety is a lifelong racer as her father raced in the 60's and 70's. Deb finds pleasure with the friends and family environment of NEMA as shown by her duties with the club, which include race day scoring, organizing the seat chart for the year ending awards banquet as well as procuring the DJ for that evenings entertainment . One NEMA memory she'll always cherish will be Shane's memorial race in 2012 when Deb's other son, Anthony "Bug" Marvuglio, an up-coming wheelman himself, captured the checkers to endless cheers and endless tears as it was a very emotional win. According to Deb, "If I were to choose another interest aside from racing it would be devoting myself to charity work". It would seem NEMA wants her to stay right where she is.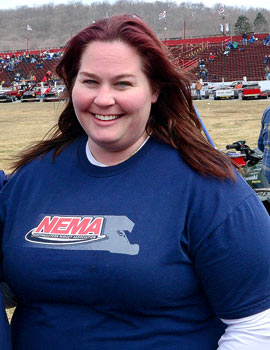 "My entire life; I was born into it", is

Jenifer Scrivani's

response to the question, "how long you been in racing"? The daughter of NEMA president Mike, and granddaughter of "Iron" Mike, this girl went from the crib directly to the garage. "The only job they let me do was wipe down the car". "But, as I got older, I'd clean the garage and run to get parts". When I was 13, Jeff Gordon drove our car and Dad knew he was going to make it big…the "I told you so's", are still being heard. Today, this energetic SOX fan can be seen going about her duties as the weekly NEMA VIP tour guide, insuring the lucky fan receives all the perks that goes along with winning the fun contest. Even after all these years, her racing passion grows as she loves the family orientated climate and witnessing the kids moving up through the ranks. Even though "Jen" is a lover of music festivals and camping, the sights and sounds of summer racing lures her back to her roots. Her dedication to the club was well recognized in 2012 as she received the Angelillo Memorial Award for Outstanding Performance. "Iron Mike" would be proud.
Dewey Cali


Has passed away at the age of 88.
- Dewey served as the chief mechanic on the Stropoli #66
that Johnny Mann drove to the NEMA Championship in 1972.
- Dewey was the owner of the 1974 NEMA Champion car
again with Johnny Mass as the driver.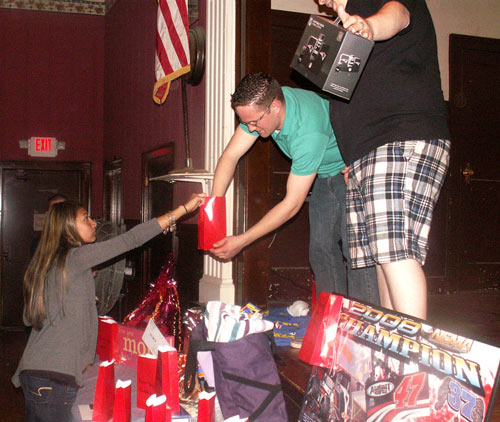 One Night…for a Rising Star
"Excitement, purely excited about Todd running with the top guys, this is his shot." Gill Bertrand spoke those words recently at a benefit dinner when asked what it meant to him to have son Todd race in the "Night Before The 500" at Indianapolis Raceway Park in Indiana in May. "I just know he can do it", Gill added.

The dinner, designed to help defer the cost of entering this major USAC midget race, was attended by a large throng of Bertrand Motorsports family and friends dining on American and Italian fair while purchasing chances on over 50 raffle and door prizes. Todd himself took over the MC duties by taking the stage and thanking all in attendance for their help and support.

The team has had this race on the 2013 calendar since last year when then driver, Cole Carter, was crashed on the first lap. For this year's IRP event, the Bertrand's built a new chassis and will enter the event with high expectations for the their young 22 year old driver and a crew comprised of brothers Tim and Patrick among others.

Todd summed up his feelings this way, "I've seen Bobby Santos take his talents from NEMA all the way to USAC, I know I can do the same thing, this will make me a better driver."

The evening concluded with endless well-wishes of success for the Bertrand team and suggestions of repeating this event next year, where everyone can once again celebrate…."One Night…for a Rising Star."
Previous 2013 NEMA NEWS HERE